There are many popular streaming applications on Android like YouTube, Netflix, Hooq etc. But some of them often cause issues and can't play videos smoothly. For instance, many YouTube users report a common error "YouTube keeps pausing" while watching a video.
If it's also interrupting your activity, you're at the right place. This article provides you simple methods to fix YouTube keeps pausing problem on Android.
Being one of the most visited sites, YouTube has over 2 million active global users of all ages. It allows people to watch or upload videos and share them with friends. However, like other apps, you may also experience glitches on the YouTube app.
Nevertheless, YouTube keeps crashing and stopping or video pauses is a common issue. Moreover, many YouTube users complain the video runs smoothly initially but gets paused later. Although they try to play it again, watch it for a few minutes, but unfortunately,the YouTube video keeps pausing continuously.
Thankfully, it's not difficult to solve the error on YouTube if you can find the reason behind it. Keep reading the article to know what causes the problem and how to solve it.
Why YouTube Keeps Pausing Videos Repeatedly?
Most Android users don't understand why YouTube videos get paused repeatedly. This can occur anytime, whether you watch it on Android, iPhone, Windows or TV.
However, the reasons for the issue may differ by devices. Here are some common causes for which the YouTube app randomly pauses itself.
An outdated YouTube app gets unresponsive and hence, crashes.
A poor internet connection can stop the video streaming at the selected quality.
Sometimes the Android device has a lack of free storage.
A third-party app may cause software glitches and prevent YouTube from running smoothly.
Perhaps, a damaged headphone or its jack is the main culprit.
How To Fix YouTube Keeps Pausing Problem?
Now, let's try some fixes when videos on YouTube keep pausing every few seconds.
Fix 1. Update YouTube App
Are you using an old version of the YouTube app? Then it's obvious why YouTube can't work properly. Mostly, people shut down the auto-update on the Google Play Store. Even sometimes, they're too lazy to update apps as it'll remove all offline videos from the device. Or perhaps, they don't have enough internet data to update it.
Eventually, the outdated version causes some errors in the application. If this is the problem that YouTube videos pause without you touching it, here's what to do.
Open Google Play Store on Android.
Type YouTube in the search bar and open it.
If a new version is available, tap on Update. Make sure you've sufficient internet quota to download YouTube's latest version.
Hopefully, you can play the YouTube videos with a pleasant flow.
Fix 2. Check For Network Connectivity
Sometimes, the error may not be associated with your phone. Rather, YouTube retains pausing videos due to the network disruption.
When your network connection is poor or slower, it takes time to buffer the content. Additionally, the Wi-Fi service provider or developer also causes this situation if they upgrade or add their speed.
Generally, YouTube follows its default algorithm when there's a network problem. They automatically stop playing the video as it hasn't been downloaded yet. If this is the case, you can switch to another network provider or wait for the existing connection back to normal.
However, it's better to spend more money on a trusted provider in order to get a reliable connection speed.
Fix 3. Recharge Internet Quota
More or less, every network provider gets slow if you've a low internet quota. It's not very uncommon as they take precedence over who has more quota. It may sound unfair, but you need to refill/recharge the quota or pay Wi-Fi bills to keep it on.
Further, remember that watching YouTube videos require a lot of data. So, you can set the quality at 144p to spend less data on a video.
Fix 4. Buffering From Bad Network Connection
YouTube keeps stopping playing videos can be a sign of the network connection shuttering. Each time you see the white circle of doom is running, it means the video is buffering.
This regular shuttering is irritating while you want to enjoy a YouTube streaming. Therefore, you need to find out the network problem and fix it. Here are two possible solutions for you.
Restart the router: Ideally, you can try restarting the router or modem if you're using Wi-Fi at home. After a long time period, routers can send a broken signal.In that case, removing cache information may speed up the connection.
Find the power cable of your modem and router.
Pull the power cable out from the modem. Do not pull hard. Hold the tip of the cable that's connected to the modem.
Wait for 60 seconds and then re-connect it.
Check if the video buffering has stopped and is playing without pausing.
Change network connection: It's highly recommended to surf YouTube videos with a faster connection at a minimum of 2mbps. In fact, it's the minimum barrier to watch a video playback of 480p quality without any interruption.
In order to check your Wi-Fi speed, try different sites like Xfinity, AT&T, Verizon etc. Is the speed started into bytes such as 500kbps? Then it may be time to change your network connection for a better and faster experience.
Fix 5. Reduce Bandwidth Limit
Bandwidth in a website is the measure of the web traffic flow. The higher your bandwidth speed, the more data can transfer without bottlenecking in the way.
Moreover, there is a limit for using the bandwidth to watch or download movies, music, videos and files online. If you stream YouTube videos and download files simultaneously, it's no surprise whythe appkeeps pausing.
However, you can reduce the bandwidth limit in three ways:
1. If you're downloading a file, give it a rest till you finish with the YouTube video. Or, you can resume the download when you're not using the device.
2. Enabling the auto-updates in the Play Store takes over the bandwidth limit. You can shut it down by the following:
Open Google Play Store.
Tap your profile picture at the top right corner and open Settings.
Tap Network preferences > Auto-update apps > Don't auto-update apps.
3. Finally, closing the background apps can also fix the YouTube error. Go to App manager and choose the apps to close.
Fix 6. Clear YouTube Cache
Similar to other apps, YouTube also stores your activities on this app in its cache file. When you use an app frequently, the cache piles up and takes a lot of storage. Consequently, it causes applications to work slowly.
With this in mind, you can start clearing cache if YouTube keeps pausing Android randomly. Here how it's done.
1. Select Settings on your device.
2. Go to App manager/Apps & Notification/Apps and locate YouTube.
3. Open the app and select internal Storage.
4. Tap Clear cache to remove the cache of YouTube.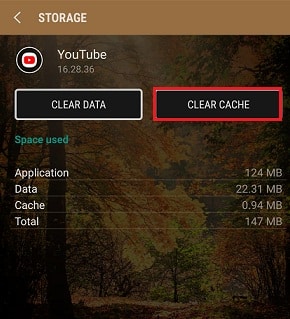 But make sure to do it carefully. Because selecting Clear data can erase all your downloaded data from the YouTube app. Now, check if it has resolved the issue or else move to the next solution.
Fix 7. Free Up Storage Space
Do you have sufficient space on your Android? Then lack of free storage can cause YouTube to pause or freeze videos. In this case, you can uninstall some unused or unimportant apps from your Android mobile or tablet.
You can follow the steps to uninstall apps on Android:
1. Go to the phone's Settings.
2. Open App manager/Apps & Notification/Apps.
3. Select the downloaded apps you wish to delete and tap Uninstall.
4. Reboot the smartphone.
Now try to play the video on YouTube again and see if the error still exists.
Fix 8. Headphone Jack Not Working
It is awkward for you and others around when your headphones get removed and everyone can hear sounds the smartphone made. But fortunately, your Android device may have a nifty feature that can pause the video or music audio when the headphones are removed from the jack.
At the same time, users experience continuous pausing and starting of the YouTube video for this feature. There can be two possible reasons, either the headphones are faulty or the headphone jack isn't working. In both cases, you can try another pair of headphones with the same jack and find out the real culprit.
If your headphones are causing the problem, maybe they're broken. Therefore, the jack is not connecting properly and the phone is registering that you're removing the headphones continuously.
Furthermore, a dusty or lousy headphone jack sometimes blocks the connection. You can try to clean it carefully and hopefully fix the issue. Or else, for Bluetooth paired headphones, make sure to connect them with the device.
Fix 9. Close Third-party Apps
Last but not least, check whether you have any third-party app conflicting with YouTube's functions. It may be an anti-virus app recognizing YouTube as a threat, an auto backup tool trying to download data or an unwanted app taking over bandwidth.
It's better to close such apps working background. Try to shut them down one by one and see if YouTube videos stop pausing and running smoothly.
Fix 10. Check If YouTube Is Down
If nothing works and still you encounter "YouTube keeps pausing" on Android, perhaps the app is down itself. Sometimes, certain technical glitches can prevent the application from playing videos properly.
In order to fix it, you can go to the YouTube Help Center and check the available articles to find solutions about general YouTube problems.
Overall
YouTube is one of the top entertainment media to watch and enjoy several types of video. Sadly, due to some issue, the app can't play a video continuously and gets paused.
Thankfully, with the methods mentioned above, you can fix the error. You can try basic solutions like updating the app or checking for network connection. However, if all these can't solve the YouTube error, you may have to bring the mobile to the nearest service center.