YouTube is the world's second most visited website, with over 2.6 billion monthly users. People can find almost everything from tutorials to something entertaining on this platform. Anyone with a mobile or PC and internet can access versatile content and share their own on YouTube.
Though the site runs smoothly, users sometimes face problems like slow speed or YouTube video lagging. The team consistently works on improving the platform, but it still gets affected by occasional glitches. One error that many users reported receiving in different scenarios is "YouTube invalid response received". 
Most users receive it while searching for a video and instead of search results, the mentioned error message shows up. In addition, some people come across it when trying to open a particular video. Whereas for some, the error appears when commenting on a video.
There can be different reasons why the error appears. If you get the error message "Invalid response received" on YouTube while trying to comment on a video, it could be because you haven't set up a name for your Google account. There's also a high possibility that the problem occurred by your browser ad blocking settings or a third-party ad blocker app installed on the device.
Most users said that they experienced the issue with the Brave browser. It's famous for its privacy-focused approach as it eliminates ads and ad trackers. Though the feature is helpful, it often prevents you from accessing certain content like videos on YouTube.
Fortunately, there're many ways you can try to fix the issue and watch YouTube videos without an error.
How to Fix "YouTube Invalid Response Received" Error?
Solution 1. Refresh The Web Page
The first thing you can try is to refresh the page after receiving the error. A simple refresh can fix random glitches on a website. It's basically done to resend the server a new request so that it can fetch the previous feed.
If you're on a desktop or laptop, just press F5 to refresh. If you're accessing YouTube on a mobile browser, say Chrome, follow these steps:
Tap the three dots on the top-right corner.
Select the Reload sign to refresh the browser page.
Solution 2. Disable Third-Party Extensions
Invalid response received error on YouTube can even occur when you use third-party extensions on your browser for ad-blocking. Generally, extensions like Adblock and uBlock slow down the program and escalate the issue. Besides the extensions, using the Brave Shield feature on the Brave web browser can also cause the same issue. To resolve the problem, you simply need to disable these. Here's how to do so,
For Ad-blocking extensions on Chrome:
Click the three dots icon> More tools.
Click the Extensions option.
Now, select the ad blocking extensions and disable them.
For Brave Shield:
Click on the video you are trying to watch on YouTube.
Once you see the error message invalid response received on YouTube, stop the Brave shield by clicking the Brave icon located near the address box.
Solution 3. Verify Account Name
It may require a name while creating a Google account and uploading the video. If you haven't set up your Google account name, Google will use the email ID you've signed up with and that can trigger the "invalid response received" error. In that case, the best thing you can do is,
Open a browser on your computer.
Visit the Google Account website.
Ensure that you've signed in to the correct account if you've multiple Gmail accounts.
Now, click on Personal info and select the Name field.
Type your name and click Save to complete the process. 
Solution 4. Use Another Browser
As already mentioned, the error can be caused by the browser you're using. You need to check if it's updated. If yes, then try another browser and check if the error still appears.
Solution 5: Verify the YouTube Account
This problem can often be resolved by just verifying the YouTube account. For that,
Open YouTube and go to Settings.
Click on Account> View Advanced Settings.
YouTube will ask you to enter your phone number.
Now, you will have to choose call or text to get a verification code.
Simply verify the code and that's it.
Solution 6. Save and Download Video
If you want to download a video from YouTube but are getting the YouTube "invalid response received" error, the best thing you can do is to save the video in a playlist before downloading it. It is only applicable to the people who use YouTube mobile app. So, to do this, 
Open the video you want to download. 
Tap on the Save button.
Select an existing playlist or create a New Playlist.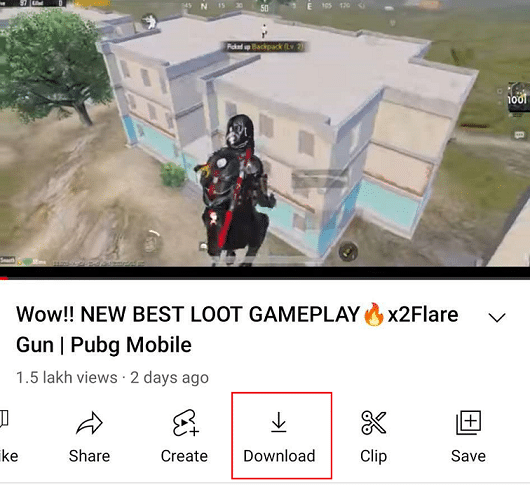 After saving the video, tap on Download to download the video.
Solution 7. Check Your Internet Connection
A poor or unstable internet connection can also cause an invalid response on YouTube. You can try restarting your router or swap the network from Wi-Fi to mobile data or vice versa and check if the problem is fixed or not.
You can also reboot the router to its factory settings and reset IP and LAN from the start.
Alternatively, you can try connecting with ethernet. Although ethernet often causes slow data processing, it's usually faster and more secure than your wireless network.
Ending Note
So, these all are the quick solutions for the YouTube Invalid Response Received error. Give them a try and you can remove the error in no time.
Hopefully, the article is helpful enough for you and the issue has been resolved. If you have any suggestions regarding this matter, please share them with us in the comment box below.