Are you getting tired of seeing the "Wi-Fi doesn't have a valid IP configuration" error? Most Windows 10 users face this problem while trying to be online. You may feel being back in 1995 when 1% of the population could use the internet.
You can't connect the computer or laptop to Wi-Fi without IP configuration. However, Windows troubleshooting only detects problems but can't provide solutions. You need to solve the issue manually. Thankfully, there are many ways to fix the error message.
Let's go through the article to learn all the possible solutions.
What Is Invalid IP Configuration?
Before proceeding into how to fix the error, let's know what causes it. Generally, when you connect with Wi-Fi, the router assigns an IP address to the PC to be online.
But if there is an issue with IP configuration, the router can't communicate with your PC. Especially when the PC tries to use a different IP address, it prevents you from accessing Wi-Fi. As a result, Windows display the error message due to invalid IP.
In short, it's a network configuration issue when the network protocol layers (TCP/IP stack) work negatively that interrupts Wi-Fi service. However, there can be other reasons too behind it like,
Incorrect network settings.
Faulty network drivers.
Antivirus settings.
Hardware-related problems.
Poor network connection from the service provider.
Disabled Windows network services etc.
How To Fix "Wi-Fi Doesn't Have A Valid Ip Configuration" Error?
Wi-Fi is surely important when you want to use the laptop in a different location. But encountering with connection problem is frustrating. But don't worry, an invalid IP configuration error isn't permanent.
As Windows only can troubleshoot problems but can't provide fixes, you've to do it manually. Here are the 13 solutions for your problem.
1. Restart The Computer
Restarting the computer is the first troubleshooting solution that comes to mind to fix any issue. The "Wi-Fi doesn't have a valid IP configuration" message can be a temporary glitch. You can quickly resolve it by restarting your system before trying other solutions.
2. Reboot The Router
Sometimes the router handling the IP address causes the error. If restarting the computer doesn't fix your issue, you can reboot the router as well. In order to clear router glitches or caches, turn it off for a few seconds and restart from new to get online.
If this simple fix doesn't clear the error even after power cycle everything, let's move to some advanced solutions.
3. Release and Renew IP Address
You can correct the invalid IP error by releasing the current IP address and requesting a new one using the Command Prompt tool. To renew your IP address in Windows 10, follow the steps below:
Type command prompt in Search to open Command Prompt and right-click on it. You can also select Windows PowerShell (Admin) from the power user menu to open the command line.
Select Run as administrator.
In Command Prompt, type ipconfig /release and hit Enter from the keyboard. Don't forget to put a space between "ipconfig" and "/release".
Then type ipconfig /renew and hit Enter. Again, you need to put a space between "ipconfig" and "/renew".
Finally, type exit and hit Enter.
Now, restart the computer to check if your problem has been resolved.
4. Reset TCP/IP
If renewing IP address didn't help, try resetting Winsock or TCP/IP stack to set network settings to its default. Winsock is the technical specification defining how your computer's network software accesses the network like TCP/IP.
Follow the steps below to reset TCP/IP:
Type Window PowerShell at the Search box, open it and right-click to select Run as administrator.
Type netsh winsock reset and hit the Enter button.
Then type nets hint ip reset and hit Enter.
Exit the command window and restart your computer.
Now, try to get online to see if it resolves the network connectivity issue.
5. Set Your IP Address Manually
DHCP or Dynamic Host Configuration Protocol server automatically assigns an IP address when you connect with Wi-Fi. So, if something is wrong with the static IP address you've set, DHCP can't get a valid IP. Consequently, the "Wi-Fi doesn't have a valid IP configuration" error may occur.
In that case, you need to set the IP address manually. Here how it's done.
Open Settings from the power menu or press Win+I from the keyboard.
Select Network & Internet>Status.
Select Change adapter options.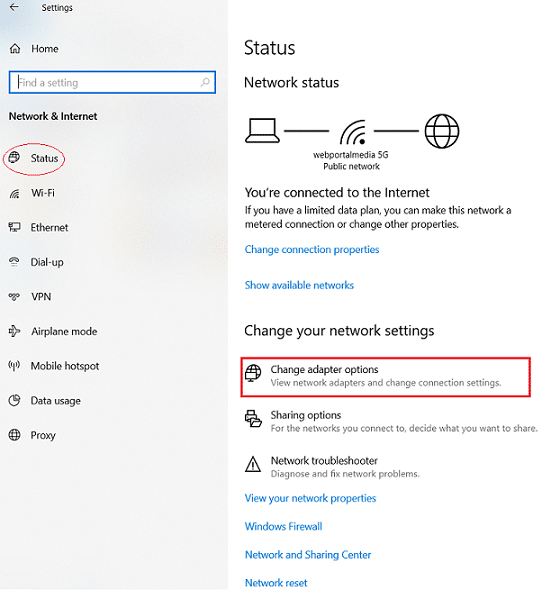 Double-click on the Wi-Fi connection.
You can see a box with our Wi-Fi status. Click on Properties.
Double-click on Internet Protocol Version 4 (TCP/IPv4) from the list. It'll open a window where you can change the IP settings.
Most people have the Obtain an IP address automatically button selected automatically. You need to enable Use the following IP address and provide an IP address, Subnet mask and Default gateway manually. Similarly, you can change the DNS settings too if necessary.
Hit Ok and restart your computer.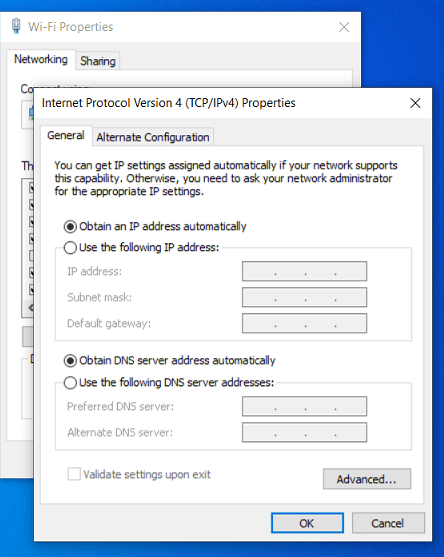 Hopefully, you can get online now by setting up a new static IP address.
6. Update Wireless Adapter Driver
As your specified problem involves a wireless network connection, you may need to check the adapter driver. Due to a faulty or outdated network driver, sometimes your computer can't connect to the internet.
So, how's about updating the wireless driver? Here's the simple process.
Press Win+X from the keyboard and select Device Manager.
Click Network adapters to find your wireless adapter from the list.
Right-click on it and select Update driver> Search automatically for updated driver software.
However, it may not find any new driver. Rather you can check Properties by right-clicking on your wireless driver to see the manufacturer. So, you can update the driver directly from the manufacturer's website.
7. Uninstall Wireless Adapter Driver
If updating the adapter driver can't solve the issue, you need to uninstall it. Don't worry because Windows 10 OS will automatically reinstall it when you start the system again.
In order to uninstall the wireless adapter, follow the steps below.
Type device manager in the Search or press Win+X and select Device Manager.
Expand Network adapters and find your wireless device.
Right-click the device and select Uninstall device from the drop-down.
Mark the box Delete the driver software for this device if available and click Ok to confirm the uninstallation.
Restart your computer.
After restarting, Windows automatically reinstall the default driver. However, sometimes Windows may fail to do so or the default driver may not work properly. Therefore, you need to download and install the latest one manually using a wired connection or another computer.
But remember, updating the driver is an advanced task. Downloading the wrong driver version may result in damaging your operating system. Hence, be careful while downloading a new Wi-Fi driver.
8. Change Wi-Fi SSID and Password
Have you tried changing Wi-Fi's name and password? You can correct IP configuration failure by changing the Wi-Fi network name, known as Service Set Identifier (SSID), in the modem and password.
However, you need to connect your computer with the modem using an Ethernet cable to access it. It's better if you follow the modem's manual to process.
9. Uninstall Antivirus Software
If the abovelisted methods don't work and you're still receiving the same error, try solving it with the antivirus software.
Sometimes, malicious viruses or malware interfere with the Wi-Fi connection and prevent the system from accessing the internet. Hence, you can run a full system scan with antivirus software or Windows defender in order to detect threats.
Meanwhile, many users have reported antivirus software like AVG, Avast etc., trigger invalid IP configuration. In that case, you can try to fix the network connectivity problem by disabling any third-party antivirus software. Then check if it resolves the issue.
Can't access Wi-Fi yet? Then you may need to uninstall the antivirus tool from your computer temporarily. Though, it still leaves some files, which can hinder system performance and stop reinstallation. That's why it's better to use any professional antivirus remover software to clean any antivirus leftover from the PC.
If you get back the wireless connection now, reinstall the latest version of antivirus or switch to different antivirus software.
10. Set The Wi-Fi Channel Width To Auto
Perhaps your problem lies within the Wi-Fi speed. There can be many reasons behind poor Wi-Fi speed, like interference near the router, the far distance between the router and device etc. Thankfully, there is a way to fix the transfer speed.
You may see many channels in the router's settings. However, the fastest Wi-Fi channel in 2021 is 802.11n over a 2.4 GHz band frequency. All you need is to set the channel width to auto following the steps below:
Type Network Connections in the Windows 10 search box.
Right-click on your wireless device and select Properties.
Locate 802.11n Channel Width for the band 2.4. Set it to Auto.
Click Ok.
11. Perform A Clean Boot
Sometimes performing a clean boot in Windows 10 solve any random issue. Basically, a clean boot starts Windows using the minimal set of drivers and startup programs.
It determines if a background program or software interferes with other programs in Windows. Thus, you'll have control over third-party services and programs running at the startup to check which one is preventing you from getting online.
Here's how to perform a clean boot.
In Search, type system configuration to open the desktop app. Or else, type run in the Search, open it, type msconfig and hit Ok.

From the System Configuration window, select Selective startup and uncheck the box before Load startup items.
Open the Services tab from the same window and mark Hide all Microsoft services. It'll hide all Microsoft applications and services. Click Disable all.
Open the Startup tab from System Configuration and select Open Task Manager. Here you can manage the startup items.
Under the Startup tab on Task Manager, select each item and click Disable.
Close Task Manager.
On the Startup from System Configuration, click Apply and Ok.
Now restart the computer and check if it fixes the issue. If your wireless connection is back, that means one of the applications was prompting the error. Now you enable each individually in order to determine which caused the error and uninstall it.
12. Increase The Number of DHCP Users
Generally, routers have a limited number of users (mostly 50) for using DHCP (Dynamic Host Configuration Protocol). It's a network management protocol that automatically assigns an IP address to the system while connecting to the internet.
If you've many devices connecting to the same network, probably you've crossed the device limit. Henceforth, it causes the Wi-Fi IP configuration error in the PC.
To fix the problem, you can log in to the router, open the settings and manually increase the number of DHCP users. You can check the manual's instructions to increase the limits as the process depends on the router.
13. Reset Network Settings
Are you still receiving the "Wi-Fi doesn't have a valid IP configuration" error? Then finally, you may have one option left, i.e., resetting the network settings.
Sometimes updated the operating system may introduce unwanted problems. Resetting will remove all the network adapters and bring back everything in the default version.
Here's how to reset network settings in Windows 10.
Select Network & Internet>Status.
Click Network Reset at the bottom or type network reset in the Search area.
Restart the PC and you can now get back online.
Conclusion
A wireless internet connection is essential for those who work with the internet anywhere. Being unable to connect, especially during urgency, is very annoying.
There can be many reasons behind an invalid IP configuration public Wi-Fi error. Some can be minor issues like a fault adapter, poor Wi-Fi connection or serious deep-rooted reasons. You can apply the simple methods initially, but if it doesn't resolve the issue, try the advanced fixes. Hopefully, the aforementioned solutions are helpful enough to fix the problem.