While browsing the web or opening a link, you often encounter with "about:blank" page. It's nothing but an empty page on the browser tab, commonly displayed on Google Chrome, Firefox, Internet Explorer, Apple Safari, Microsoft Edge or other browsers.
Generally, about:blank is an in-built command used by a browser when there's nothing to show. Besides that, other reasons like removed malware and adware corruption also sometimes cause a blank webpage.
So, does it mean your computer is infected? How to remove about:blank popping up unexpectedly? Keep reading the article to know more details and solve your queries.
What is about:blank?
"About" is an internal scheme of Universal Resources Identifier or URL implemented in all web browsers. There are several built-in "about:[keyword]" commands into the browsers that provide information to the user. For instance, type about:about in a browser to reveal the list of all URLs, about://version for the browser's version etc.
Similarly, the command about:blank shows an empty document on the screen. This blank page is generated by a browser itself, not the internet. It appears when the browser window or tab has no web page to load or is not intended to load any.
Should You Use about:blank?
Many people launch their browsers to a blank page with about:blank. It though sounds strange but has certain reasons.
During start-up, browsers like Firefox and Chrome run background tasks that take up your PC's memory and bandwidth. Even you can't end these tasks completely but can control some of them. With assigning about:blank, it's possible to stop your browser from opening multiple windows or tabs from the prior session.
Some other reasons you can use the blank page for:
Creating a useful blank homepage.
Ensuring security and privacy during launch.
Reducing background processes to free up the system.
Regulating the use of bandwidth resources by opening a non-internet web browser.
Is about:blank Malware or Virus?
Apparently, an empty page is not malware, rather a common problem when a browser has nothing to display. But still many people concern is about:blank bad or harmful to their PC. Although such pages are not malware, adware or any virus, they can often open blank pages.
If malware or adware is removed from the system, the codes integrated into the browsers also get removed or corrupted. Consequently, the preferences and settings of that browser get changed. That's why it becomes unable to show a page's content.
You can do a full scan with any anti malware or antivirus software if you want.
Common Reasons for about:blank Pages on Browser
Besides malware or adware removal, there are some common reasons behind about:blank pages that leave the browser in a non-functional state.
Bugs in the browser.
Bugs in the code generated from the applications or websites opening the URL.
Corrupted page cache or data.
Opening a link in the new tab by right-clicking it.
Opening a download link automatically in the second tab causes the browser to show a blank page to start the download.
Opening a link too early and the web page displays a white blank screen as it's still loading.
Typing an incorrect web address and get the wrong page causing security issues or see an about:blank page as the browser doesn't know what to display.
Slow internet.
Extensions or add-ons on the browser.
How to Fix about:blank Web page Issue?
Here are some proven solutions to fix an about:blank web page issue on Google Chrome and Firefox. However, the methods in Chrome can be adopted in other browsers too.
Fix An about:blank Page on Google Chrome
Clear Browsing Data
To fix about:blank on Chrome by clearing browsing data, follow the steps:
1. Open Chrome on your pc/laptop.
2. Click the three vertical dots at the extreme right.
3. Select More tools > Clear browsing data or you can directly open it by pressing Ctrl+Shift+Del.
4. Select All time from the Time Range drop-down.
5. Ensure to check mark all boxes for the Basic and Advanced tab.
6. Click Clear data.
Disable or Remove Chrome Extension
1. Open Chrome.
2. Click the three dots menu at top right corner.
3. Go to More tools > Extensions.
4. Toggle the switch to disable the extension. You can choose to disable one or all extensions and enable again to check which one was causing the blank page.
5. If you find that particular extension, you can remove it also by selecting Remove.
Set a New Home Page
If you have set about:blank as your Chrome homepage on startup, then set a new one.
1. On Chrome, click the three dots menu and select Settings.
2. Under Appearance, scroll down to On startup.
3. Select Open a specific page or set of pages.
4. Finally, click on Add a new page and provide your new homepage's URL.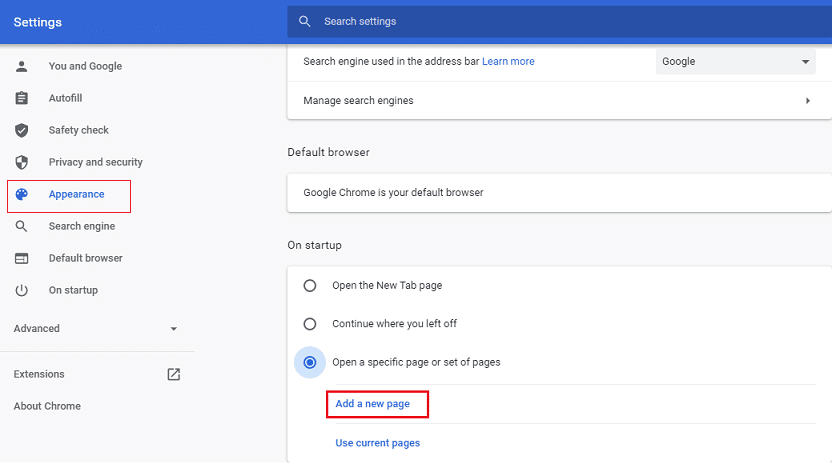 5. Click Add.
Reset Chrome Settings
If the above methods can't fix the blank page issue, resetting Chrome Settings can help with troubleshooting.
1. Open Settings by clicking the three dots on Google Chrome.
2. Expand Advanced on the left panel.
3. Click Reset and clean up.
4. Select Reset settings to their original defaults.
5. Click Reset settings on the confirmation pop-up.
This action will reset all custom settings, extensions and other changes you made on this browser.
Remove about:blank on Mozilla Firefox
Though about:blank is not malicious for your device, it's irritating when it occurs frequently and interrupts your browsing. If you're a Mozilla Firefox user, here are some quick methods to get rid of about:blank.
Clear Browsing History on Firefox
1. Open Firefox and click on three horizontal lines on the upper right side.
2. Select History.
3. Click Clear Recent History.
4. Click the drop-down for Time Range to clear to choose a time and click Ok.
Clear Cache
Firefox cache temporarily stores images, scripts and different parts of a site you visit and it can be a reason for seeing blank pages repeatedly. Hence, clearing the cache can help you solving the empty screen problem.
To clear Firefox cache, follow the steps:
1. Select the Menu icon at the extreme top right and click Settings.
2. Select Privacy & Security panel.
3. Under Cookies and Site Data, select Clear Data.
4. Check all the boxes and click Clear.
Another way to clear the cache on Firefox is as bellow:
1. At the same Privacy & Security page, go to the History section.
2. Select Clear History.
3. In the Time Range to clear drop-down menu, choose Everything.
4. Mark the checkbox of Cache and hit Ok. You can clear history for other options too.
Change the Homepage
Like Chrome, if you've set about:blank as your Firefox homepage, it's obvious to see a blank screen while opening the browser. To remove about:blank on Firefox, change and set a new homepage through Settings.
1. Open Firefox, go to Menu button> Settings > Home.
2. Click the drop-down next to Homepage and new windows.
3. If Blank Page is selected as the homepage, you need to change it. Either select the Firefox home (default) option or Custom URLs to provide your desired web page's URL.
It will remove and fix about:blank issue on the browser.
No more Blank Pages
As already said, an empty page is not a serious problem. However, for frequent occurrences, if you're suspicious, it's better to perform a virus scan.
Furthermore, clearing cache, browsing history and resetting will clear any bug or corrupted files from that problematic browser. In case you're still facing about:blank, update the web browser to its latest version.