Dealing with social media trolling and bullying can be overwhelming sometimes. Luckily, Instagram has brought a feature, "Restrict", which lets you control embarrassing comments on your posts. Once you restrict an individual on Instagram, their new comments become invisible to your other followers.
What Does Restrict Mean on Instagram?
The Restric option on Instagram means you're temporarily limiting someone's access to your profile and their unwanted comments on your posts. It means they can't interact or communicate with you in the same way as other users.
You can restrict multiple accounts on your Instagram posts to manage comments.
What Happens When you Restrict Someone on Instagram?
When you restrict someone on Instagram, here's what happens:
Instagram won't send the user a notification that you've restricted them.
Their future comments become invisible to other followers on your profile. Only you and the user can view the comments that you need to manually approve to appear.
Their chat, including new messages, will be on your Message Requests.
If you both are in the same group chat, you'll receive a warning that you're seeing someone's message you've restricted.
You will not get notifications for future comments from that user.
They can't see you online on Instagram.
They will not know if you have read their messages.
They can still view your posts and stories.
How to Restrict Someone on Instagram?
You can restrict someone on Instagram in various ways.
Restrict an Instagram user from their profile
Open your Instagram on Android/iOS and visit the profile you want to restrict.
Tap the three dots at the top right corner.
Select Restrict.
Restrict an Instagram user through the Settings
1. Open Instagram and tap on your profile picture below.
2. Tap the three horizontal lines from the upper right corner.
3. Select Settings > Privacy.
4. Under Connections, choose Restricted Accounts.
5. Search for the account you want to restrict on Instagram and tap the Restrict button beside their username.
Restrict an Instagram user from Messages
Open Instagram and navigate to Messages.
Open the chat you want to restrict.
Tap on the profile name from the top. 
Tap Restrict from the bottom.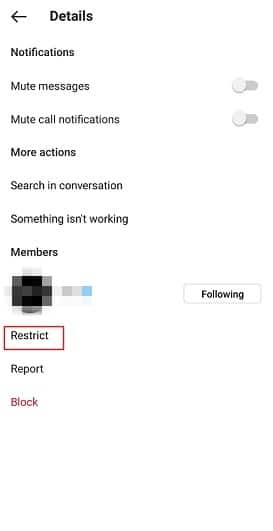 Restrict an Instagram user through Comments
1. Navigate to the Instagram comment section.
2. Press and hold the unwanted comment. 
3. Tap on the exclamation mark icon from the top right side.
4. Tap "Block (name)"
5. Now, tap Block to confirm. 
Thus, restricting unwanted people on Instagram keeps you away from social harassment and offending comments.
Frequently Asked Questions
Is it possible to unrestrict an Instagram user?
Yes, it's possible to unrestrict an Instagram user at any time. All you need is to open the user account whom you want to unrestrict and tap on the three dots icon. Now tap Unrestrict from the list. 
What is the difference between blocking and restricting an Instagram user?
Blocking a person is a drastic action to avoid a person on Instagram. If you block someone on Instagram, they won't be able to see your profile, uploaded posts, and stories. In short, you prohibit them to communicate with you in any way. You also can't send them messages or leave comments on their post. Moreover, they'll understand that you've blocked them.
On the other hand, restricting someone is a less complicated way to avoid unwanted people, comments, and messages on Instagram. When you restrict a user, they won't get any notification about that and will still be able to view and comment on your post. But the comments will be visible only to you and the user. They can send you messages as well that you'll find in message requests.