Discord is a great VoIP platform to talk and hang out with friends and communities. It lets users communicate through voice, video and text chat. However, whether for fun or privacy reasons, many users change their voices while talking on Discord.
There are plenty of voice-changing programs that can change and disguise the voice tone. If you're a Discord user, you can also create funny and strange unrecognizable voices.
So, are you interested? If yes, here are some best voice changer apps for Discord to try.
10 Best Voice Changer Apps for Discord
If you're looking for a free Discord voice changer on Windows, try Clownfish to change voice on Discord. After installation, any application access microphone can use ClownFish to modify your voice. So, apart from Discord, this voice changer app works great with Skype, TeamSpeak, Hangouts, Viber, Ekiga, Mumble etc.
You can try different voice effects from Clownfish like Alien, Atari, Clone, Mutation, Robot, Male pitch, Female pitch, Baby pitch, Silence, etc. The other cool features are:
Music player to manage and control the background microphone's music.
Add music from external sources like YouTube, Vimeo etc.
Virtual Studio Technology (VST) plug-in support.
Voice assistant tool to convert texts into audio speech.
Sound player with in-built sound and management.
Voicemod is one of the popular and best voice changer programs for Discord with free-of-cost. You can also use this program on other voice chat apps and games like Skype, PUBG, Fortnite, Steam, OBS, Zoom etc. Simply install it on Windows 7/8/8.1/10 and get access to its features.
Voicemod allows you to use your creativity and change the voice in real-time with over 80 different voice filters. For example, try high-pitched voices like Baby, Chipmunk or go for scary voices like Ghost, Spirit or try out a gender swap with the Man and Woman.
Additionally, Voicemod provides the following functionalities to enhance your voice changing experience:
Create your own voice with Voicemod's Voicelab feature.
Improve your natural voice with their Clean Voice filter.
Reverse the effect that you've applied to a voice.
Another pro voice changer tool for Discord with amazing audio effects is MorphVOX. You'll experience a new level of voice changing with its modified voice-learning technology, background noise cancellation and sound quality.
Some built-in effects to change your voice online and in-game are Man, Woman, Child, Robot, The Demon, Cyborg Warrior etc. The other top key features of MorphVOX are:
Many free voices.
Many free sound packs.
Add background sounds when you talk.
Sound like the character you're playing in the game.
Low bandwidth and CPU usage.
Advanced vocal tract filters for unlimited tweaking.
Switch voice with a single keystroke.
Audio alarms to play a clip or announce a time.
Record your morphed voice to a file.
The developers have added some latest features also. For example, palettes and content organizer, voice comparison analysis, stereo microphone support and others.
However, one problem is that the software setup process with Discord takes a long time. Also, it's not free software. You need to buy MorphVOX Pro ($39.99) to unlock premium features after a free trial.
The real-time top voice changer for web chat applications is AV Voice Changer software. It can control and modify your voice or any audio file not only in real-time but also in waveform editing.
Basically, the software modifies each characteristic of your voice despite your age and gender. For example, it can make the voice sound younger, older, higher, deeper, more famine or masculine etc.
Furthermore, advanced virtual technology enables AV Voice Changer Software Diamond to connect with many VoIP programs, role-playing games and chat apps. Some exciting voice modification features are:
Voice Morpher.
Voice Recorder.
Voice Analyzer.
Voice Editor.
File Morpher.
Parody Mixer.
More than 100 ready-to-use Nickvoices.
70 background effects, 30 voice effects, 17 non-human voices, 40 plug-in audio effects and many more.
Like any voice changer, download AV Voice Changer's trial version or purchase the full package for $99.95.
If you're looking for a good, powerful and real-time voice changing tool for Discord, try Voxal Voice Changer. It enables you to change and disguise the voice while talking on Discord without any time delay. The software is also compatible with Steam, Skype, CSGO, Rainbox Six Seige etc.
Moreover, Voxal is free to use and easy to install. The recommended system requirements are Windows 10/8.1./8/7/Vista/XP and Mac OS X 10.5 or above.
The software allows applying effects, modifications and even character impersonations to existing audio files as well as in real-time. Let's check out the voice changing features:
Change your voice live while playing or chatting on Discord.
Load and save effect chains for the voice modification.
Interesting voice effect library includes boy, girl, baby, alien, robot, echo, atmospheric etc.
Use the software with existing games and voice applications.
Works smoothly on a low CPU.
Create unlimited custom voice effects and use them when playing online.
Noise reduction tool.
Change the environment.
If you want an easy-to-use voice changer app for Discord on Android, Voice Changer With Effects can be the best choice. It lets you record a voice, apply fun effects and share them with friends and family.
This app offers some useful features that make it preferable to Discord users.
Import any sound like a song or previously recorded audio and apply effects.
Set the recording as your ringtone or notification tone.
Combine the recordings with images to make videos.
Over 40 crazy effects where your voice may sound as you're a monster, robot, drunk or in a cave or using a megaphone etc.
To utilize such fun effects and features, visit Google Play Store and download this voice changer app for free.
Are you interested in audio mixing? Then Voicemeeter can be a good pick as an advanced voice changer app for Discord. Unlike other applications, Voicemeeter lets you mix your voice and create perfectly customized effects.
However, operating Voicemeeter isn't easy for beginners. You'll need technical knowledge to use this virtual voice mixer. If you're a first-time user, follow their manual step by step to install it.
If you're a pro, here are the features worth trying:
Voicemeeter can mix audio sources coming from audio devices and compatible audio applications.
It supports all audio interfaces like Direct-X, MME, WaveRT, ASIO and WASAPI.
Voicemeeter is compatible with any Windows OS version. For end-users, the software is free to use. Though as a professional user, you can pay the recommended license price on their webshop.
If you wish to get a robust voice changer app for Discord mobile, RoboVox Voice Changer Pro is the perfect option. It uses vocoder technology to record or change your voice with 32 different voice styles.
If you're not happy with the built-in effects, customize and create your own voice style with its pitch and modulation settings. Here are the RoboVox features you can't ignore:
Voice styles like scary, exorcist, funny, singing robot, bionic, croak, discobot etc.
X-Y control field to modify pitch and sound modulation.
3 types of modes: real-time, parrot and recording.
Save recordings in WAV format.
Email your creation as WAV files.
Set transformed voice as a ringtone.
Vocoder with real-time FFT spectral analysis.
So, if the features grab your attention, download the RoboVox app from Play Store or Apple Store. However, it doesn't offer free installation. Instead, you need to purchase it for approx $1.49.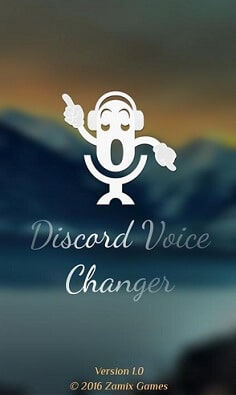 Add extra fun while voice chatting on Discord with another nifty Android app, Discord Voice Changer. It's the best voice-changing app for real entertainment with a gallery of 19 crazy sound effects.
Discord Voice Changer lets you change the voice to an extraterrestrial like Yoda, Gilgamesh or Robocop. Or, imagine you use a sound effect like a ghost, child, chipmunk, phantom, cave, doppelganger, lion or others to create strange voices when talking to friends.
Here are some impressive features to try out:
Simple, intuitive and elegant interface.
Create unlimited special changing voices.
Apply effects in real-time to audio input.
Save the modified or recorded voice.
Set the recording as a ringtone.
Share the modulated voice via SMS, Gmail, Skype, Messenger, File Commander, Bluetooth, Drive etc.
A free unblocked games recorder.
You can download the APK file of this free entertainment app on Android 4.0+.
One of the smart and funny voice changer apps for Discord worth trying is Voice Editor. It's a super voice editor app that also records voice anywhere and anytime.
It lets you change voice into funny and awesome characters, including child, male, female, alien, superhero and so on. Moreover, it serves as a voice modifier where you can edit multiple formats or change the playing scene of music.
Here are the useful features this smart voice changing app offers on Discord:
Voice recorder.
MP3 cutter.
Ringtone maker.
Audio editor.
Audio tuner etc.
If you want these features, download the Voice Changer Voice Editor app for free from Play Store.
Conclusion
That's all for the top 10 voice changer apps for Discord. Try out these fantastic tools to create funny voices and disguise your voice. It's a great way to stay anonymous while streaming on Discord and interacting with your viewers and friends.