Instagram Story is a great feature to get more exposure by posting multiple photos and videos that disappear after 24 hours. Instagram shows you who has seen the Story. Similarly, while checking on other's Story, they will know you've watched it.
But do you want to peek at someone's Insta Stories without being seen? Well, you're at the right place. Here you'll learn four sneaky ways to view Instagram Stories anonymously.
Turn On Airplane Mode
If you're using Instagram on a smartphone, the best trick to watch someone's Story without their knowledge is with Airplane mode. Generally, when you log into the account, Instagram pre-loads Stories on your phone. So, you can watch them without the internet.
The process is quite easy. You need to open Instagram and wait for a few seconds to load all Stories on the phone. Then, turn on Airplane mode and return to Instagram to view Stories anonymously.
In this way, users won't see your name in their Story audience. However, if it's a long Story with many slides, not all can pre-load. You'll see only a few from the beginning.
Tip: Remember, the Stories you're attempting to view must be from a public account or someone who's added you to their followers list. Further, you can't access Stories posted for Close Friends only.
Watch Instagram Stories Anonymously from Finsta
If you want to watch someone's Instagram Story without letting them know you're online, the best option is using Finsta. It's a shortened term for a Fake Instagram account to post content and interact with others more privately by keeping only close friends as followers.
Hence, while you're stalking and viewing others' Story from the second account, nobody will know the real identity. Again, the Story should be from a public profile.
Download Third-Party App
Don't want to create a secondary Instagram account? Then many third-party apps can help you check up on Stories of someone's else Instagram profile.
For example, Story Saver for Instagram is a great app to anonymously watch and download Stories on the phone. Your view won't be counted on their seen list.
Here's how to use Story Saver:
1. Download the app from Google Play Store.
2. Open the app and log in to your Instagram account.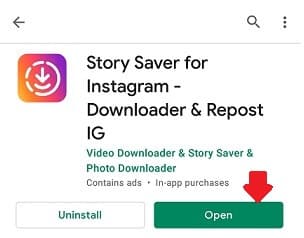 3. Now on the app, tap Stories at the bottom right corner.
4. Make sure you follow the account.
5. Tap the Instagram Story you want to view secretly.
There'll be a download option also if you want to save the video or image.
Some other smartphone apps to secretly watch IG Stories are:
Repost Story for Instagram. (for Android and iOS).
BlindStory (for Android and iOS).
Storized-Story Viewer for IG (iOS).
Profile Plus+ Story Reposter (for iOS).
Use Third-Party Websites
With third-party websites, you don't need to download any app. You simply visit the site, enter the username of whose Story you want to see and let the site display the Story.
Here are some top websites to view Instagram Stories without logging in.
Instadp
Instagram Story Viewer.
StorySaver.net
Instalker.
Hopefully, with these quick tricks, you can sneak into others' Instagram Stories without them knowing. Try the methods that work best for you.