Do you love to watch your favorite shows online? Like Netflix and Amazon Prime, Hulu is a popular online streaming site in the US and Japan. However, frequent annoying ads don't let you enjoy movies peacefully. So, how to block Hulu ads?
Owned by Disney, Hulu is an on-demand subscription service due to its cheap monthly plan of $5.99. Despite that, the platform monetizes itself through different ads. Consequently, users get to see many ads and can't even skip them.
Generally, such advertisements come with a basic Hulu subscription plan while watching a series or movie. But thankfully, there are some quick methods to block or skip Hulu ads and watch the content without interruption.
Let's go through the article below to know the ways for removing non-skippable ads on Hulu.
How To Block Hulu Ads In 7 Easy Methods?
If you're a big fan of Hulu, it's surely frustrating to see those ads pop up in the middle of a show. However, it's not completely possible to skip without watching the full ads. These ads are the income source and Hulu Basic and Hulu+Live TV plans have enabled ads in-between shows.
But are you looking for a way to get rid of them? Here are seven quick life-changing methods worth trying.
1. Use Ad-blocker Extension For PC
The first and foremost method to solve the Hulu ads problem is to use an ad-blocker. It's an effective way not only for Hulu but also for Amazon Prime Video, YouTube, Twitch or other sites showing advertisements.
There are plenty of choices for an ad-blocker and here are some best ones.
AdBlock Plus: It's a popular browser extension to block ads if you use Hulu on the PC. However, AdBlock Plus doesn't block ads directly. Rather it replaces them with a white blank screen to hide the ads.
If you don't mind seeing a blank screen, then this is the right option for you. Unfortunately, some videos may not play for this Chrome add-on plugin and it displays Video not appearing or Hulu Video not loading errors. In that case, you can temporarily disable the extension and enable it later.
Hulu Ad Skipper: Another perfect ad-blocker for the Chrome extension is Hulu Ad Skipper. It is also available for Chromium-based browsers and Microsoft Edge. Follow the steps below to install and add the Hulu Ad Skipper browser extension on your PC.

Search and open "Hulu Ad Skipper-Ad Blocker" in the browser.
Click Add to Chrome and then the Add button on the pop-up.
When you add the extension to the browser, visit Hulu.com and log in.
Now open any video to watch. The extension will automatically detect and block commercial Hulu ads appearing during the streaming.
uBlock: If the above-mentioned extensions don't work, here is another Google Chrome (also Firefox) ad-blocker extension. uBlock (or uBlock Plus Adblocker) is a free and fastest ad and content blocker for Hulu, Facebook, YouTube etc.
Due to technical reasons, these ad-blockers may not work properly and stop the entire video from playing. It's because the ads are embedded in your old flash player. In order to fix the issue, you can install the latest flash player and watch content without ads.
2. Use Blockada For Android
More or less, many people love to watch movies and shows on their phones. If you're among one of them, luckily, your phone also provides options for blocking ads. Blockada, a third-party app for Android, is a great way to get rid of annoying ads while watching Hulu.
So, how can you block Hulu ads on Android with Blockada?
Download and install the app on your mobile.
Open the app and tap Blacklist.
Tap Goodbye ads.
That's it! It'll block the ads immediately. Though Blockada works on some ads only, it's trusted and keeps your privacy safe.
3. Use Enounce My Speed
What if you can speed up Hulu ads and bring it a 4 minutes ad into 1 minute? Yes, if you can't block ads, you can fast forward it. Enounce My Speed software can speed up or slow down playbacks of Hulu Player along with most Flash and HTML 5 Players. Eventually, you don't have to wait longer to finish an ad.
At the same time, this impressive software is not free to use and you've to pay $29.99 for the license key. But to check how it works, take a 7-days free trial with all features unlocked. If you like it, buy the premium service to enjoy Hulu with minor interruption.
4. Reload Hulu Page
There is a practical solution to get rid of Hulu ads by simply reloading the page. Thus, you don't have to add plugins or purchase applications. Refreshing the Hulu program page may not block the ad but shorten it.
Hulu monetizes the platform from commercial advertisements and web page views. That's why at the beginning they show you shorter ads and from onwards increase the ad length by 3-4 minutes.
The best way is whenever an ad starts, press the reload button on the web page. Once it's reloaded, you can see two quick ads, one is 2 seconds about the program, and another is 30 seconds about a commercial. Basically, the ads get shortened by length.
Eventually, you can skip long ads and won't have to watch the entire one. The program will resume from the point of reloading it.
5. Open Hulu Video On Two Tabs
A tricky but yet simple tip to avoid Hulu ads is to open the video on two tabs. You'll be surprised to see how it effectively works. Here is the process.
Open Hulu and log in. Choose any program you want to watch.
Now open the same program on another tab.
In the second tab, mute the volume and fast forward the program just a few seconds before the first commercial ad marker. It shows in a different color on the stream bar.
Go to the first tab and start watching the program.
As soon as you reach near the first ad marker, stop the video and move to the second tab. Unmute the volume, click the play button to start the video.
When the first ad loads here, go back to the first tab and resume the video. Since Hulu already played the ad in the second tab, it automatically skips in the first one.
Now keep repeating the steps for next all ads in that program. All Hulu users apply this trick and it always works well.
6. Upgrade To Premium Plan
The official way to experience ad-free streaming on Hulu is to buy a premium plan. The upgraded plan cancels the ad pop-ups when you're watching a show/movie. Moreover, before subscribing, you'll also get a 1-month free trial.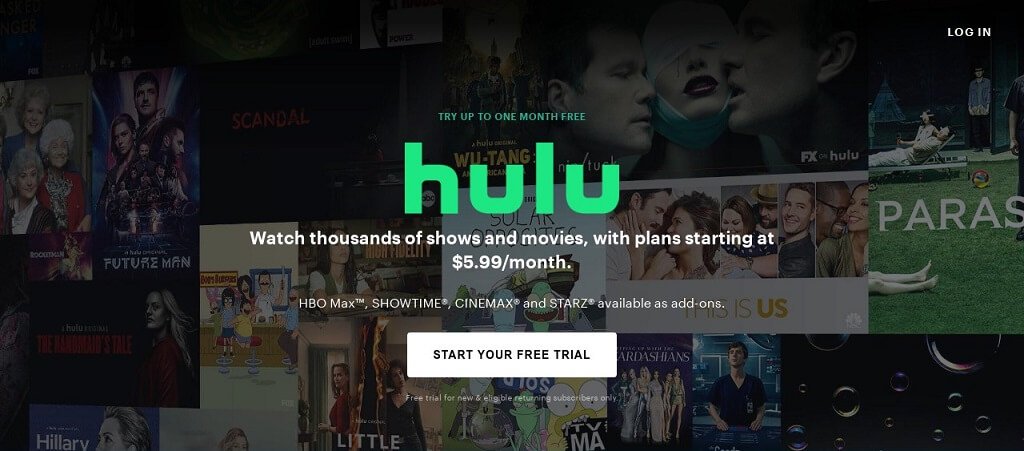 In addition, you can download your favorite content to watch offline without interruption. Therefore, select one of the plans below for no ads:
Hulu (No Ads)– $11.99/month.
Hulu (No Ads) + Live TV – $70.99/month.
The prices are reasonable and worth purchasing if you're a big fan of TV series and movies.
7. Use Web Filtering
The final method to block Hulu ads on your device is using web filtering under Access control or Parental control in the router control management. Follow the steps below:
First, connect to the Wi-Fi.
Second, open any browser on the PC and type 192.168.0.1 or your default IP address. Hit enter.
Search for the option called web filtering. It may differ depending on the router.
Now add "ads-e-darwin.hulustream.com" to the web filtering option and block record.
Click apply and restart the router.
So, how does it work? This domain is typically accountable for all Hulu advertisements. Hence, when you're blocking it, all ads on Hulu get blocked. Now, enjoy your favorite shows without any disturbance on Hulu.
Final Thoughts
It's not very difficult to block or skip Hulu ads. Especially if you've upgraded the subscription, it becomes easier to enjoy shows.
However, you can add extensions or ad-blockers to the PC and Android. But blocking ads on iPhone and iPad is a little tricky. The platform is not open-source and there is a strict approval process for every application or software. You can try using ad-blockers, but if it doesn't work, open and watch Hulu on Chrome with extensions.