You'll probably get a little overwhelmed if you're looking for the ideal screen recording software. Many possibilities make it challenging to pick the right one for your situation. Your organization may also have restrictions on the software you can use depending on security settings, pricing, billing, and other factors.
Hence, we have compiled a list of the seven best screen recording software 2022 that appear in the most search results. Regarding software, it's not a one size fits all strategy, as there are a variety of strengths and goals for each application.
1. OBS Studio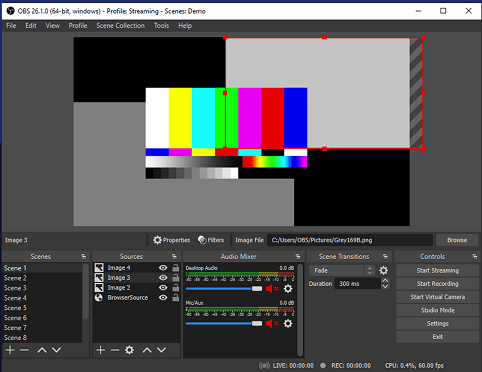 In addition to being free, OBS Studio is a powerful screen-recording tool that supports various formats. For example, screen captures, photographs, and text can be combined with webcam footage and other media. Each scene can be previewed in Studio Mode before putting it all together.
Additionally, a dedicated, adaptable UI tool allows you to rearrange the film until it meets your needs. You can flip between any number of scenes. Perfect your movie using the Streamlined Settings tool to refine the final product due to an efficient audio mixer with additional extras like noise reduction and VST plugin support.
2. Ezvid 
One of the earliest screen-recording apps was Ezvid, released in 2011. Users who don't want to learn how to use complicated software can take advantage of this feature. Windows XP, Vista, 7, 8, 8.1, and 10 are all supported by the Ezvid screen recording and mixing application.
It's a terrific alternative for YouTubers because it's free to use. Nevertheless, screen recordings are confined to 45 minutes in length, and the user interface is straightforward to pick up in a few minutes. Live annotations and sketching on the screen are also supported by Ezvid, which allows users to record both their screens and their webcams at once.
Using Ezvid's editing suite, users can clip, crop, and trim videos in minutes. Users can add narration and music from a library of well-known artists to spice up their videos. Video accessibility can be improved with a text-to-speech tool for those who are hard of hearing or prefer to watch clips with the volume turned down.
For some reason, Ezvid does not support full-screen gaming recording. A fix exists, although it is a nuisance for gamers' convenience. It is also not possible to save recordings locally to a computer or external device. However, this could be a problem for those who want to save their films to another location besides YouTube.
3. AceThinker Screen Grabber Pro
An easy-to-use desktop recorder, AceThinker Screen Grabber Pro lets you record your computer screen. It may simultaneously record audio and video via your computer's speakers or microphone. It's possible to capture and store video in AVI, WMV, MP4, and FLV formats without sacrificing quality.
AceThinker Screen Grabber Pro provides customers with various screen capture modes, each tailored to a particular use case. You can record the entire screen, a specific window or area of the screen, or only the area around your cursor. You can capture video from your webcam for screen recording with picture-in-picture or recording an online conference. You can do so if you prefer to record only the audio from your PC.
4. FlashBack Pro 5 Recorder
Even though Flashback Pro costs a little more than some other screen recorders, it makes up for it by developing a holistic all-in-one screen recording and video editing solution.
Parallels Desktop or VMware Fusion may allow Mac users to run it, although it's only accessible for Windows. For this reason, please test it with a free trial version first to confirm it works properly before buying.
Flashback Pro 5 Recorder appears to be a simple recording app at first glance. You have the option to record your entire screen, a selected section, or a window. You have the option of simultaneously recording your webcam and system audio, as well as a voiceover recorded from a microphone. There is a built-in video editor, which makes this program useful once you get started using it.
5. Movavi Screen Recorder
Countless individuals use Movavi's screen-recording software to record webinars, seminars, meetings, and lectures, among other things. Recordings can be made using either the screen, a webcam, or a combination. Split screen recording is also included in the software, making it possible to record multiple streams simultaneously.
Profs and business people alike will find the editing features to be adequate. Conversely, gamers may have concerns because Movavi does not allow you to record games.
When using Movavi Screen Recorder, it is possible to capture, edit, and distribute video at 4K resolution. In addition to scheduling recordings and highlighting keystrokes and mouse movements, this software lets users draw or outline information on movies to enhance their appeal. 
6. TinyTake
As far as screen recorders go, TinyTake is one of the most straightforward. It's one of the best screen recording software for PC while sharing films and photographs with others because it offers all the capabilities you're likely to need and none of the fluff you don't.
In terms of recording your computer screen, all it takes is a few clicks after you've registered an account (which is required). TinyTake takes care of the rest after you've mapped out the zone you want to capture and clicked the start button.
If you're recording on a low-end laptop or PC, this is a wonderful option. There is a premium edition of TinyTake if you wish to add annotations or record longer than five minutes. However, it's perfect for quick screen captures and easy uploads to video-sharing sites like YouTube.
7. CleanShot X
CleanShot X is a breeze to set up and use. There is a menu bar at the top of the screen that provides quick access to all of its features. After capturing a screenshot or recording a video, a small quick access overlay appears with the captured content. You can copy or save the document, as well as annotate it, by using the buttons on this overlay.
In addition to basic video capturing, CleanShot's best video recording software has a wide range of additional functions. For example, you can use the device's built-in microphone to overlay recorded audio or hide desktop clutter while recording. For GIFs or videos, you can use CleanShot to record your screen.
It is also possible to record keystrokes and mouse clicks. A video of yourself using the camera on your Mac can also be included for variety. Lastly, edit the movie with the built-in video editing tool.
Conclusion
The interface and user experience must strike a balance between robust capabilities and easy-to-understand operation. It is possible to create professional-looking videos with the help of these screen recording software. Screen recording enthusiasts will definitely love one of these.