For the last few years, YouTube has been on top as the most widely used social media. Despite its worldwide popularity, this is not without flaws. Users are bound to face technical difficulties and "No sound on YouTube" is the most common issue they often encounter. This sound issue causes poor user experience. Fortunately, there're some permanent solutions to fix it so you can enjoy YouTube videos again.
Part 1: Quick  Solutions to Fix No Sound on YouTube
Multiple reasons can trigger this No Sound on YouTube issue. In this part, you'll learn the quick fixes that can help you with troubleshooting. Though in most cases, restarting the device can be an immediate solution to fix any temporary glitches.
Fix 1. Check YouTube Mute or Volume Button
First and foremost, you need to check YouTube's volume control settings. You may have muted YouTube. To ensure, check for the speaker button at the lower left corner of the video. If it's muted, click it to unmute and your YouTube video will start playing with sound.
Fix 2. Check Device Sound Settings
The next thing you can check is the device's sound settings. Verify that your browser or device's speakers are not muted accidentally or at the lowest volume. Additionally, check and adjust the configuration in your audio device. The volume mixer slider sometimes is at a lower volume.
Fix 3. Switch Between App and Browser
If there's no audio on YouTube app, try to play the video on a web browser or vice versa. If you can hear sound on the other one, possibly the platform you were using before has some issues. You can update the app and browser or use another browser to play YouTube.
Fix 4. Restart Device or Browser
Restarting the device or your browser can often fix any technical issues like the one in the discussion.
Fix 5. Enable Incognito Mode
If YouTube has no sound on Firefox or Chrome, there might be restrictions on browser settings or extensions. You can enable incognito mode and check if the issue arises there. Incognito mode doesn't include previously installed extensions or stored cookies and settings. If any of them triggered the issue, the incognito mode will fix it easily.
Fix 6. Clear Browser Cache
Some users have claimed that after clearing the browser cache, the no sound on YouTube problem has been resolved. So, it's worth trying.
To clear the cache on Chrome, follow the steps below:
1. Click the three dots icon on Chrome and select More tools> Clear browsing data.
2. Set the time range to All time.
3. Checkmark all the options: Browsing history, Cookies and other site data and Cached images and files.
4. Select Clear data.
5. Restart Chrome.
Fix 7. Remove and Update Adobe Flash Player
You must have the Adobe Flash player installed while playing a video on website from a PC. however, sometimes Adobe Flash player can malfunction and incompatibility with the player can cause the YouTube problem. So, you can remove Adobe Flash player and reinstall the updated version to get rid of the problem.
Fix 8. Disable Security Software
Though security software protects the device from viruses and malware, it may often interfere with your audio driver and audio speakers. You can disable security software on the PC and see if that helps.
Fix 9. Refresh Bluetooth Connection and Check Headphones
A quick trick to solve no sound on YouTube is refreshing the Bluetooth connection by turning it on and off. You can do it from the settings. Also, make sure the headphones are properly connected to the device.
Fix 10. Run Audio Troubleshooter
Windows 10 has in-built troubleshooters to detect and fix errors quickly. Hence, you can run the audio troubleshooter and your issue with YouTube will be fixed easily. Here're the steps:
1. Click on the Start menu and select Settings.
2. Click Update & security.
3. Go to the Troubleshoot tab on the left panel.
4. You can see the troubleshooter called Playing Audio. If it's not there, click on Additional troubleshooters and select Playing Audio.
5. Select Run the troubleshooter.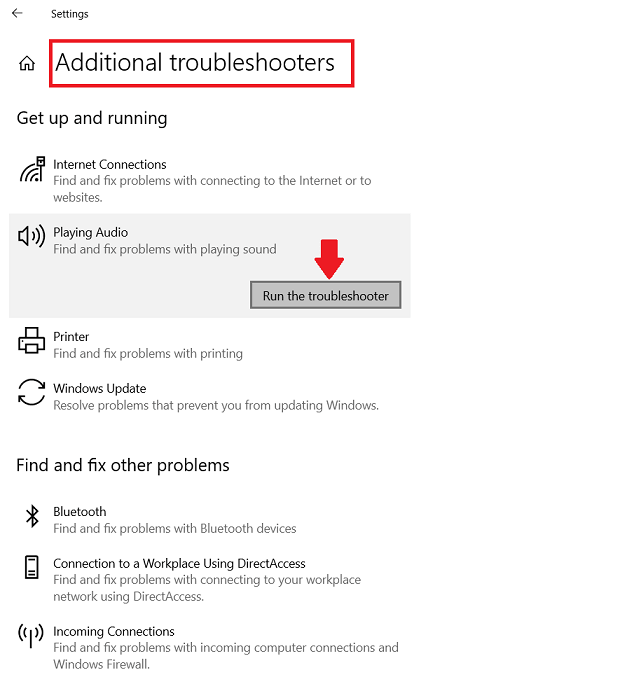 6. Wait until the troubleshooter detects and fixes the issue.
7. Reboot the computer.
Part 2: Troubleshooting for No Sound on YouTube App
If you're trying to play YouTube audio on the Android or iOS app, you can solve the no-sound issue with the following methods.
Clear Cache 
Clearing the cache for YouTube can easily help you to get rid of the issue.
Here's how to do it on Android:
1. Open the phone's Settings.
2. Tap Apps or App Manager and look for YouTube.
3. Select the app and tap Internal Storage.
4. Tap Clear cache.
On iOS, there's no option to clear the cache. Instead, you can delete the app to clear its data and reinstall the app. Follow these steps:
Go to Settings.
Tap General> iPhone Storage.
Find YouTube and tap Delete App.
Reinstall the app from Apple Store.
Restart Device
Your Android or iOS device can come across audio problems due to software glitches or bugs. When you're switching from the headphone to speaker mode or if the sound card is deactivated on your mobile, such audio problems can occur.
In that case, restarting your device is the easiest solution. For Android, press and hold the power button and tap Restart / Reboot. To restart an iPhone, press and hold the volume button and side button until the power off slider shows up. Drag the slider, wait for a few seconds and then again press and hold the side button to turn it on.
Update Phone's Version
No sound on YouTube can arise due to the outdated version of Android or iPhone. You can update the phone to its latest version to fix the issue.
For updating Android, tap Settings> System Update> Download and install (if an update is available).
For updating iOS, tap Settings> General> Software Update.
Sound problem on YouTube is quite common, but it can be fixed easily with the solutions mentioned above. Try them out and let us know which one worked faster for you. If you know other easy fixes, share them with us in the comment box.