Android comes with versatile features, more flexibility, functionality, and useful apps. But recently, many Android users have repeatedly complained, "why does my volume keep going down". If you've also seen your phone volume automatically keep going down without any explanation or notification, then you're at the right place. This article will answer this question and tell you how to fix it.
There are different reasons why Android volume goes down by itself. In general cases, the volume button may get stuck, malfunction or you're using faulty headphones. The issue can also arise due to inappropriate settings, a software bug or troublesome apps.
Regardless of the reasons, the following solutions will help you to fix it
How to Fix My Volume Keep Going Down Issue
Here're the solutions with detailed steps that will guide you on how to fix my volume keep going down.
Use Another Headphone on Android
When you experience the problem that my volume keeps going down automatically on Android, there's a chance that it's caused by your headphones or headphone jacks. So, verify whether your headphone and Android device are compatible with each other.
Additionally, Android may receive a false signal to lower volume due to electronic device differences. Also, check if the headphone quality is correct for your model. You can find some headphones that fail to work when connected to the phones.
So, try using different headphones and find out which one works the best with your Android device.
Restart Your Android
In some cases, your phone volume keeps going down by itself due to a temporary software glitch or bug. A quick way to troubleshoot any temporary glitch is to restart your Android.
For that, press and hold the power button for several seconds and select Restart/Reboot from the options. Alternatively, you can completely turn off your Android phone and turn it on again after some time.
After restarting the phone, play some music and check if the issue still persists.
Reboot Phone in Safe Mode
If the phone volume is glitching right after installing an app, you might need to verify if the app triggered this problem. Certain third-party apps sometimes run in the background and access volume. Booting the phone in safe mode can help you resolve it.
When you reboot in safe mode, all third-party apps on the device become inaccessible. To enter safe mode on Android,
Press and hold the power button until you see the Power Menu.
Press and hold the Restart or Power Off option until you see Reboot to Safe Mode.
Select Ok.
Once it's done successfully, you can see the Safe Mode text below the screen. It means only the system apps are running.
Now open a music app and play any song for a few minutes. If the volume doesn't lower down by itself, you can be sure that an app you installed was causing the trouble.
Check If Volume Button is Pressed Accidentally
The problem that your volume button is going down on Android by itself may also arise if you've pressed the Volume Up and Down button together accidentally. This action can put the phone in the Do Not Disturb (DND) mode.
Furthermore, harder phone covers, phone holders or any object inside your pocket or bag may cause the volume button to be pressed automatically. Ensure to take out or clear such objects. After that, navigate to Settings > Sound & Vibration and turn off Do Not Disturb.
Turn Off Too Loud Volume Warning
Another reason your phone volume will turn down automatically is for Android's protection against too loud of a volume. This protection feature isn't available in all Android devices because manufacturers may not include it in all versions.
This feature will display a warning on the device screen saying that too loud volume can damage your ears, causing hearing loss and it's recommended to limit the volume.
But you can bypass it. On mobiles like Samsung Galaxy S9, open Settings > Sounds and Vibration > Volume and click the menu button on the upper right side. You'll get the Media Volume Limiter option. Toggle off the slide bar to turn it off.
Remember, some Android devices turn this volume protection feature on after 24 hours.
Enable Mono Audio
Mono Audio plays the same sound on both the right and left speakers. So, you can easily follow audio if you can hear better in one ear than another. Enabling this option can often resolve the issue in question. However, not all Android models have the option.
To enable it, follow these steps:
Go to Android's Settings.
Tap Shortcuts and accessibility/ Accessibility > Accessible > Mono audio.
Toggle on the bar to enable Mono Audio.
The audio sound will be switched to mono from stereo to hear in one ear.
Close All Open Apps
If too many apps are opened in the background, they consume a large memory and cause the volume to go down automatically. Closing those apps help in clearing the memory and space.
Here's how you can close all open apps at once:
Tap the right or left button near the Home button below the screen or swipe up from the bottom of the screen to open recent apps.
To close all open apps, tap "X", Clear All or Close All (the option varies based on the model).
To force close an app on Android,
1. Long press on the app icon that you want to close.
2. Tap App info.
3. Tap Force Stop.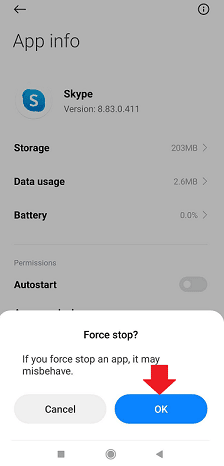 4. Select Ok to confirm.
Update Your Android
Make sure your Android is running on the latest version. Sometimes, there're bugs in the older version that can lead to the phone volume keeps lowering itself issue. Hence, updating your phone can remove any glitches and resolve the issue.
To get an update, follow the steps below:
Go to the phone's Settings.
Open System update.
If an update is available, tap Download and Install.
Reset Your Phone
If nothing works, your last option is resetting the phone to its factory version. Factory reset deletes all user data and more on a smartphone device and gives it a new start.
Follow these steps to reset your phone:
Open Settings > System management.
Select Backup & Reset.
Tap on Erase all data and select Clear now. (the steps may vary based on your device model).
After resetting, the phone will restart and you'll get the initial setup. Sign in to Google to restore all your data.
So, hopefully, you've got your answer to the most asked question "why does my volume keep going down". To help you fix the issue, this article has given you several solutions that you can apply depending on the root cause of the issue. If you know any further methods, please let us know in the comment box.