Social media platforms nowadays are stringent when it comes to protecting the privacy and security of their users.
To ensure that hackers don't get access to your account and you only use your Instagram account, Instagram sends a security code to your phone number. This helps in protecting your personal and confidential data.
However, there are complaints that Instagram not sending SMS code to users' phone numbers. This can create a big issue because without the code you cannot access your Instagram account correctly.
In this article, we will answer your question about why is Instagram not sending SMS code and how you can fix it.
Important Things You Should Know about Instagram Security Code
As you know, Instagram requires your email and phone number to secure your account and verify that no one other than you are accessing it.
So, what's the importance of the Instagram verification code? This code is a part of the two-factor authentication, which is now essential for social networking sites like Facebook.
Instagram sends this verification code to its users to make sure that the original owner of the account is trying to log in from a different device. It helps to prevent hackers from taking advantage of people's personal information.
Note: Keep in mind that Facebook owns Instagram. It means if your Facebook keeps stopping due to a server overload or major outage, then the users of Instagram won't be able to use all its features properly.
Here are a few things that you should know about Instagram security code
1. Instagram Protects Your Account
Instagram asks for your phone number and email id when you create a new account. It's compulsory and part of Instagram's terms and conditions, which means every user must submit these details while creating a new Instagram account.
Instagram will send you a security code on the given email id or phone number for verification whenever you log into your account for the first time. That's why it's important to set up your Instagram account correctly to avoid any problems in the future.
2. Unusual Activity Message from Instagram
Whenever Instagram detects an unusual account login attempt, it sends you a security code to protect your account from hackers.
Thus Instagram's security code helps to recognize the original account owner in case of suspicious login activity and prevent an imposter from accessing personal data.
3. Sign in Numerous Times from Different Devices
Instagram will ask for verification if you use a different device to log in to your account. Also, if you sign in and out of your Instagram account numerous times, it can do the same.
In that case, you'll get a security code on your registered mobile number or email which you need to use to verify ownership of the account and sign in without any problems.
4. Instagram Phone and Email Verification Both Can Fail
Both email and phone verification are important, but they can fail at any time without notice.
If you're not getting the security code even after entering the proper email id, you can check the spam folder. You can ask Instagram to resend the security code if you don't find it in the spam folder.
Also, make sure that your IP address is not blocked. If it is, then you won't get the security code and Instagram might block you from accessing all its services.
However, it might be a bit tricky for mobile users to find the Instagram security code as the spam folder is not available on all mobile devices.
How to Fix Instagram Not Sending SMS Code
If you want to get Instagram security code SMS, then there are various fixes available for Instagram users.
Before that, you should enter the correct email Id and phone number while creating a new Instagram account.
Let's not waste much time – Here's how to fix Instagram not sending SMS code.
1. Ensure Your Internet Connection is Stable
If Instagram is unable to connect to the internet, then it can't send you an SMS to help you to verify your account. Check for any problem with your WiFi connection or mobile data. If possible, try switching to mobile data if using WiFi and vice versa to fix the issue.
2. Check If Your Mobile is Able to Receive SMS
Your mobile number may not receive any SMS or text messages due to a poor mobile network. In such cases, you can try another mobile number or your email address to receive the Instagram SMS code.
3. Wait for a Few Hours
Every website and app goes through downtimes for server maintenance and other reasons. Instagram cannot send you an SMS code if the Instagram server is overloaded or has a downtime. In that case, it's better to wait for a few hours and try again later.
Also, there are many websites on the internet using which you can check whether or not the Instagram server is down in your country or location.
4. Allow Permission for the Instagram App
You need to allow the important permissions for the Instagram app to function properly.
In order to do that, go to your phone's settings and find Instagram. Tap on permissions and turn on all the toggle switches. Also, you can long-press Instagram and tap the info (i) icon. After that, tap on permissions and enable all of them.
Now, try again to open Instagram and wait to get the SMS code on your mobile. If you don't get it yet, move to the next fix.
5. Clear Instagram Cache
It's possible that the corrupted Instagram cache files are preventing the app from working properly. In that case, clearing unnecessary cache files from your device is the best way to get rid of the issue.
For that, Android users open Settings. Find out Instagram from all apps and tap on it. After that, tap on storage and tap clear cache.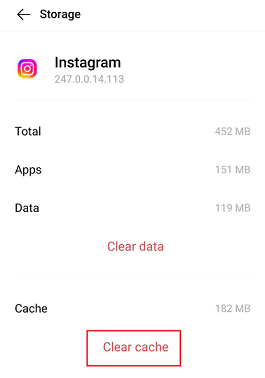 If you're using iPhone, go to settings and find Instagram. Now tap on storage and then tap "Offload App."
6. Log in to Instagram From a Browser
You also need to make sure that the issue is not with your phone. That's why you should try using another device to log in to your Instagram account. To do so, open a web browser and open a tab with "Incognito mode."
Now, open your Instagram account on this tab and check if you're now able to receive the SMS code.
However, you must keep in mind that Instagram might send you a security breach warning if you use a different IP address.
7. Update Instagram
If there is nothing wrong with your mobile or IP address, then you should update the Instagram app to solve the problem. All you need is to open Google Play Store or App Store and check if there is any available update for Instagram. If you find any, tap on the update button beside Instagram to download the latest version of the app on your device.
8. Contact Instagram Support Team
If you still cannot get an SMS code from Instagram, even after trying all the above-mentioned methods, then you don't have any option left but contact the Instagram support team. They can solve the  'Instagram not sending SMS code' issue. You may need to wait for some time (maximum 2-4days) to get the problem fixed.
Frequently Asked Questions
Why did I get an Instagram security code without asking for it?
You get the security code from Instagram because someone may have tried to access your Instagram account without your permission.
That's why it's important to activate two-factor authentication (2FA)
How can you log in to Instagram without a security code?
If you want to log in to Instagram without a security code, simply click on 'I forgot my password.' To perform this method, you need to have access to the email that you have registered on Instagram.
Conclusion
It's quite annoying to experience the 'Instagram not sending SMS code' issue as it stops you from signing in to your account. That's why it's essential to update your contact details on Instagram on a regular basis. Also, you should remember or note important passwords to use them whenever needed.
Hopefully, this article will guide you to fix the Instagram verification code issue. If you find this guide helpful, do share it with others who need assistance on the same.