The Facebook poll is the best way to get insights into your fans. It takes a minute to add a poll, post it and get feedback from your audiences. From common people to all big companies and brands, they create polls to make plans or know their customers' opinions.
While adding a poll in Story or group post, you can ask a question and give the best options for the people to choose from. So want to know how to create a Facebook? Keep reading the article to learn the simple process.
What Is a Facebook Poll?
Facebook polling has been massively popular among users. In the Facebook poll, you ask your viewers about any product/service, movie, or game. You post it either on your Facebook group or Story as the poll option is not available on the personal timeline.
Except for the group poll, you can add only two options and people vote for them accordingly. Not only questions, but also you can upload photos and gifs in your Story to ask for votes. But make sure you stick to the Facebook guideline.
However, these polls are not anonymous. Anyone can view who voted for what.
How to Create a Poll in a Facebook Group?
For desktop users:
To create a poll in a Facebook group using a desktop computer, follow this simple process:
1. Open your Facebook account on the computer and log in.
2. From the News Feed, click Groups on the left panel and select your group under Groups you manage. In case it's not there, tap See More to find your group.
3. Click on Write something…
4. Click the three dots menu at the bottom right and choose Poll.
5. Enter a question and provide options. You can give as many options as you want.
6. Then click Post.
Before people start voting, you can also edit the text of the poll just by clicking the Edit menu at the top. Further, group admins and poll creators can add or delete poll options anytime. But only group members along with the admin can participate in the polling.
To add a poll in Facebook group using Android mobile, follow the steps:
1. Open Facebook and tap the three horizontal lines in the upper right corner.
2. Tap Groups > Your Groups.
3. Select your group. If you can't find it, tap on See More.
4. Tap Write something…
5. Scroll down to select Poll.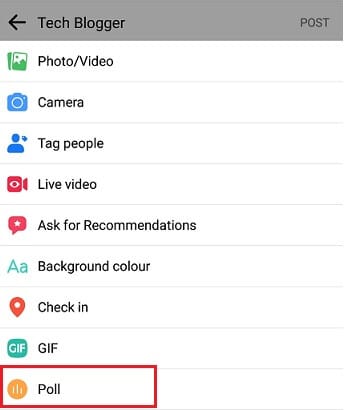 6. Ask a question and add options for group members to choose from.
7. Tap Post at the upper right.
Similar to desktop, you can edit the post and add or delete poll options later.
How to Create a Poll on Facebook Story?
In order to create a poll on Facebook Story, you can do it only from phones, not desktops. It lets you ask questions, customize the answers and then people vote on their favorite option.
Here are the steps to create and add a poll to Facebook Story while uploading a picture or video:
1. Open Facebook on Android or iOS.
2. Tap Create Story at the top of the News Feed.
3. Select to add any photo or video.
4. Tap on the sticker icon at the top right and select Poll.
5. Type the question and tap Yes or No to customize your answer.
6. Tap Done.
If you wish, change the audience to control who can view your Facebook Story. Select the Privacy option at the bottom and tap Share.
The Story stays for 24 hours. Within that time, you can swipe up the Story and check who has voted and how many votes you've received.
Overall, creating polls on Facebook is very easy and fun. It helps to engage with your followers and friends more productively. So, do give it a try.