Are you embarrassed with your current YouTube channel name? It can be a possibility that a name might have sounded cool when you have started the channel, but now the
YouTube name is holding you back from being popular. Otherwise, it can also happen that the channel name is not relevant to the media files you currently post on your YouTube channel.
Whatever the reason is, if you are searching for ways to change your YouTube name, then you have come to the right place. In this article, you will find the steps on how to change YouTube name.
When talking about the YouTube name, it doesn't mean you can change the URL; it means the name appears when people visit your channel page. If you want to change the URL or create a custom one, then, first of all, you need to be eligible for it.
The article is only focused on changing your YouTube name, so let's get into the details.
Difference between Personal/ Non-Brand Channel & Brand Channel?
There are two types of YouTube channels:
1. Personal or Non-Brand,
2. Brand YouTube channel.
Changing the YouTube name has different impacts on both types of channels.
If you use your personal Google account credentials to create your YouTube channel, it would be a non-brand YouTube channel. Owning a personal YouTube channel lets you comment on other YouTube videos and posting your own content. The display picture and profile name would be the same as your Google account.
This means changing your YouTube name would change your Google account Gmail or others) name too.
On the other hand, having a brand YouTube channel and changing the name of it won't change the name of your Google account or Google account's services.
A brand YouTube channel has some extra added benefits. First of all, you can use your own Brand name and there's no need to associate it with your personal Google account. You can add some members or brand managers to handle your channel.
Additionally, with a single Google account, you can manage multiple brand channels. Even if you wish, you can hide your email address/ phone number from the subscribers or viewers.
In case you are wondering which type of YouTube channel you currently own, then the process is pretty simple. You only need to log in to your Google account and then go to the option called "Brand Account Settings". If any brand name is not mentioned there, then it means you have a standard or non-brand account.
How to Change YouTube Name?
Primarily, there are some common steps for changing the channel name for both brand and non-brand YouTube channels. Follow the below-mentioned six simple steps to know how to change YouTube name.
Open YouTube from a mobile or computer and log in to your desired account.
Click on Profile Picture at the top right corner. A drop-down menu will appear.
Select YouTube Studio from that menu. The page of YouTube Studio will open on your screen.
You can see a menu on the left side of that page. From there, find and select Customization.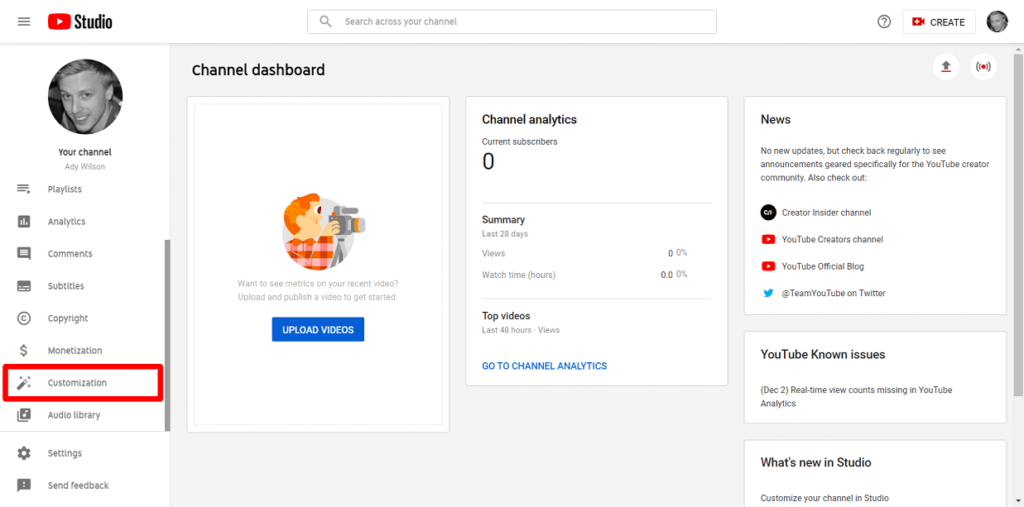 After that, click on the Basic Info option.
Here you will find the "Channel name and Description" option with a pencil icon beside it. Clicking on the pencil icon would let you change your YouTube user name.

For a non-brand/standard channel: Type your First Name and Last Name in the text box. Then click on the Publish button in the top right corner.
For a brand channel: Provide a new Channel Name in the text box and click on Publish from the screen's right side.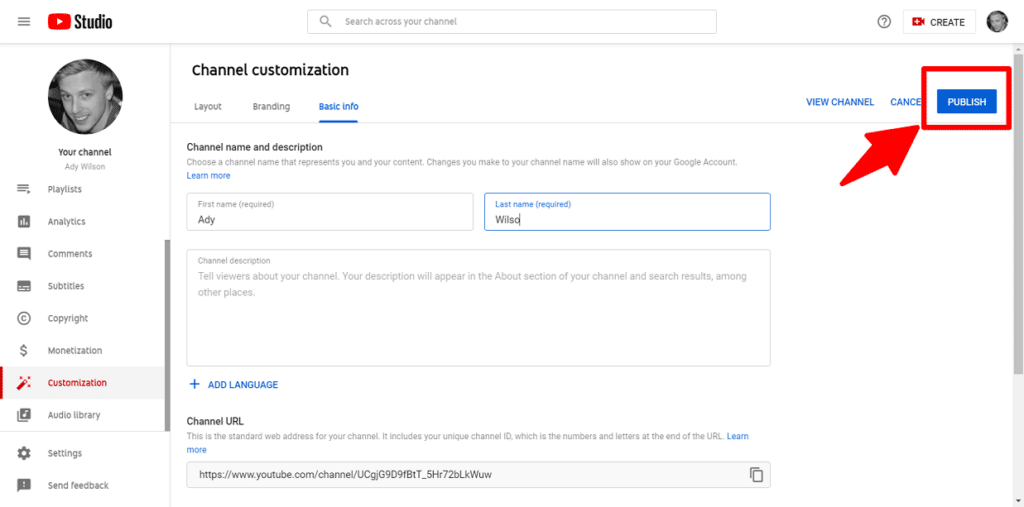 For brand channel: provide a new Channel Name at the desired box and click on Publish.
Can You Change Your YouTube Name Without Changing the Google Name?
If you currently own a personal channel, then there is no option to change your Youtube name without changing the Google name. This is because your personal YouTube channel is not a separate account from your Goole account. So, changing the name means you are editing your Google account's information.
In case of brand YouTube channels, editing or modifying the channel name or profile picture would not affect your Google account's information.
Don't be disheartened if you have a standard YouTube channel and you want to change its name without changing details about your Google account. There are options to switch from your non-brand channel to a brand YouTube channel.
Whatever you do, keep in mind that you are modifying your YouTube channel to become a professional YouTuber and gain more subscribers. So, it is necessary to let your followers know that you are about to change your channel's name. Sudden change in your channel can have a bad impact on your active subscribers or followers.
Here's a tip for you: Incase you want to see rapid growth in your YouTube channel, companies like YouTube Storm can help you to get real subscribers.
The Facts
As you can see, the steps to change your YouTube name is really easy. There's no requirement of creating a new YouTube channel with a different name and lose your existing subscribers.
Now all you need to do is to think and come up with a catchy and attractive channel name and follow the steps to change your YouTube name. Remember, your goal is to get more subscribers, so ensure that you post relevant content that goes with your channel name.