Nothing irritates an Android user more than the pop-up saying, "Unfortunately, Google Play Services has stopped." This generally happens when you try to update or install an app from the Play Store. Users are left scratching their heads, thinking about why Google Play Services keeps stopping.
Generally, a bug in the software or a faulty network is the reason why Google Play services keep freezing, crashing or stopping. However, if accidentally your device has downloaded an outdated or wrong version of Google Play Services, this issue can also occur.
Worried about what to do with Google Play Services keeps stopping? You will get the answer in this article. We've compiled a list of troubleshooting methods to solve your Google Play Services issues.
Stay tuned.
How to Fix Google Play Services Keeps Stopping Error
So, what can you do to fix the Google play services keeps stopping issue? Well, following is the list of a few troubleshooting methods that you can use to fix the error. Google Play Store will be working in no time if you follow the steps listed below one at a time.
1. Restart Your Android Device
You may not know that but restarting or rebooting your Android device can fix minor issues. So, the first troubleshooting method you should try is restarting your Android phone and check whether it fixes the Google play services keeps stopping issue.
Press the power button for a few seconds.
Click on the Power Off Icon to turn the phone off.
Wait a few minutes.
Press the power button again to turn it on.
Or hold and press the power button and volume down button at the same time for 10 seconds to force a restart.
Once it turns on, open the Google Play store and check if the Google Play services is working.
2. Clear Google Play Services Cache & Data
Check if deleting all Google Play Services cached data fixes the crashing issue. Corrupted data may be to blame for any application's strange behavior, and clearing the cache is one way to remove the faulty data.
Cache removal not only restores your smartphone to its factory settings but also frees up storage space. Any app's cache can be easily cleared by following a few simple steps.
Follow the steps to clear the cache and data.
Go to Settings> Applications and Permissions> App Manager> Google Play services.
Tap on Internal Storage.
Press on "Clear Data" and "Clear Cache".
Now restart your phone to see if it works.
3. Update Google Play Services
An outdated Google Play Services can cause this error. Always keep up-to-date with your Google Play Store and Play services.
Open Google Play Store from your device.
Tap on your profile picture at the top right corner.
Tap on Manage apps and device> Updates available.
Find the Google Service Framework and update it. Or simply tap on Update All to update all the apps on your device, including Google Play Services.
4. Update Date and Time On Your Device
If Google Play Services frequently freezes or crashes, there is a good chance that the date and time on your device are incorrect. If you choose to manually set the date and time on your device instead of allowing it to update itself automatically, you may have this issue more frequently.
If this is the case, you should check the time and date settings on your device and make any required adjustments to prevent yourself from receiving the pop-up error, "Unfortunately, Google Play Services has stopped".
Go to Settings > Date and time.
Enable "Automatic date and time".
If still your date and time are incorrect, change them manually.
Reboot or restart your device and open the Play store to see if the problem got resolved.
Now, try downloading any app from the Play Store and check if the error still persists.
5. Use An Alternative Google Account
You can temporarily log in with your backup Google account if you are having problems with your primary Google account, which is tied to Google Play Services. This will prevent Google Play Services from crashing as a result of the problems. Before you start the process of removing your primary Google account from your device, you should create a backup of it to avoid losing data.
Go to Settings.
Tap on Accounts and backup
There will be an option called Manage Accounts. Tap on it.
Select the Google Account, you want to remove.
You will get the Remove account option there, tap on it to remove the account
Next, create a new Google account to sign in and see if the Google Play Services is working.
Go to Settings.
Select Google.
Tap on the drop-down beside Gmail ID, and select Add another account.
Or you can sign in again with your previously removed account.
6. Go Back To An Older Version/Setting of Google Play Services
Not all updates are perfect. A faulty update is the most typical cause of the Google Play Services keeps stopping. There is a possibility that a corrupted version of Google Play Services gets automatically downloaded and installed on your Android device and that's why you are experiencing such an error.
Unless the software developers release a bug-free version, it will be safe to go back to an older setting of Google Play Services.
There are two methods you can follow to go back to the previous versions. These are:
Method 1:
Tap on the icon of Settings on your phone.
In the "Settings" menu, you can find the Apps & Notification or Apps option. Open it by giving it a tap.
Next, search for Google Play Services from the menu. Once you find it, select it.
At the extreme top right corner of the mobile screen, you can see three dots. Tapping it will give you the option to Uninstall Updates. You can uninstall the latest updates and go back to the previous version.
Method 2:
Launch Settings > Apps > App manager.
Find Google Play services from the list.
Click Disable from the menu. It won't uninstall your app, but it will switch back to the older version.
Restart your phone.
Once you turn your phone on, you can see the problem got fixed. Now you can reinstall the latest updates.
7. Reset Google Play Services Preferences
You can try resetting the configuration to fix the Google Play Services keeps stopping error. If you execute a factory reset, you will lose all of your app preferences, as well as any settings that could have had a role in causing the issue.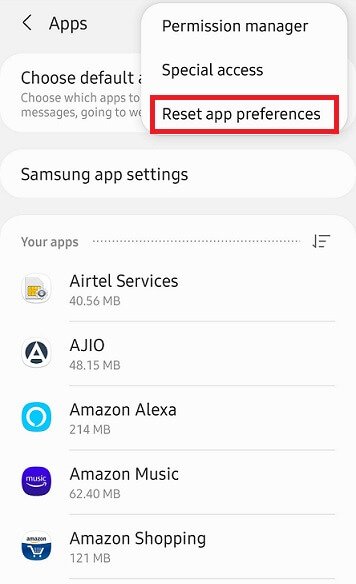 Go to Settings.
Select Apps or Application Manager.
From the top right corner, choose three dots and select Reset app preferences.
From the confirmation pop-up, tap on Reset.
If the problem still persists, then try the next method.
8. Perform A Factory Reset
It is possible to make a device return to its initial configuration by performing a factory reset on it. As the Google Play Store and certain other programs will be reverted to an earlier version of themselves, the issue you were having should now be resolved.
You should know that when you factory reset your phone, you end up with losing all the data stored in that device. So, make sure to create a backup before you decide to factory reset.
Your phone should have at least 80% charge when you start the process of factory reset.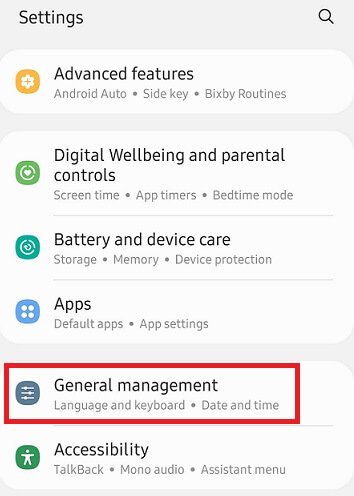 Go to Settings.
Go to General Management.
Tap on Reset.
The Factory data reset option will be there; tap on it.
Next, press Reset.
This will remove all your existing data, photos, videos, and manually installed apps from your phone. So before doing a factory reset, it is important that you keep a backup of all your files. Google provides backup tools like Google Drive, Google photos to make the backup process easy for you.
9. Update Android Version
Sometimes, if your phone's android version is not up-to-date the problem may persist. The new update might be able to fix some bugs, including app malfunctions.
That's why you need to check if your phone has the latest android version or not. Here's how you can do it:
Go to Settings.
Click on System or About Phone.
Check for any updates.
If the update is available, then click on Download and install.
Overview
Now you have pretty much an idea to fix the error Google play services keeps stopping. One of the methods is definitely going to work for you. Make sure you always update Google Play Store along with the Play Services. Moreover, you need to ensure that your device has free space for the apps to function smoothly.