Are you tired of receiving the error code "Unfortunately, Google Play services has stopped" on your Android phone? It is annoying as this error can stop you from downloading any app from the play store.
Google Play services is an API package that enables all Android apps to work properly and smoothly. It is an inbuilt system app that keeps the Google Play Store updated.
If you don't update your android operating system regularly, Google Play Services may stop working at any time.
However, you can solve it on your own if you know the process. It is pretty simple and learning some basic steps will help you to get rid of this issue. Let us find the solution for Google Play services keeps stopping.
9 Easy Ways to Fix Google Play Services Keeps Stopping
1. Restart your Phone
Restarting the phone is the first thought that comes to the users' minds while fixing any random issue. This can be an effective way to fix the problem with Google Play services.
Press the power button for a few seconds.
Click on the Power Off Icon to turn the phone off.
Wait a few minutes.
Press the power button again to turn it on.
Or hold and press the power button and volume down button at the same time for 10 seconds to force a restart.
Once it turns on, open the Google Play store and check if the Google Play services is working.
2. Clear Data and Cache
Google Play services stores all information in its cache. If restarting the device doesn't solve your issue, you may start clearing the cache.
The Play services act as an API between Google and the device. The play apps use it as a framework. Clearing all the information stored in the cache can effectively fix the issue. You may need to clear the data as well to make Google Play services run perfectly.
Before clearing the cache and the data, you must know the outcome of these. There will be no such impact on your phone if you clear the cache. But clearing data will delete all your data from the Play services.
Follow the steps to clear the cache and data.
Go to Settings > App Manager / App & Notification > Google Play services.
Choose Storage.
Press on "Clear Data" and "Clear Cache".
Also, go to option "Manage Space" and press "Clear All Data".
Now restart your phone to see if it works.
3. Update Google Play Services
An outdated Google Play Services can cause this error. Always keep up-to-date with your Google Play Store and Play services.
Open Google Play Store from your device.
Tap on the three horizontal bars at the top left corner.
Go to My Apps & Games. You can see the pending apps update list.
Find the Google Service Framework and update it. Or simply tap on Update All to update all the apps on your device, including Google Play Services.
Or go to the left menu again and scroll down to the page.
Open Settings. At the bottom, there is a Play Store Version. Click it. If it's updated, then ok. If not, then update and install it and restart your device.
4. Change the Date and Time
Do you know that minor problems like wrong date and time can also cause issues with Google Play Services? This is why you need to check if your phone is showing the correct date and time or not.
If it is not, then you can correct it with the following steps:
Go to Settings > Date and time.
Enable "Automatic date and time".
If still your date and time are incorrect, change them manually.
Reboot or restart your device and open the Play store to see if the problem got resolved.
If your Google Play Services Keeps Stopping try disabling Google Play Store and enable it again.
5. Remove and Switch to Different Google Account
Some users face data synchronization or data loading issues with their Google account. These types of issues are also a reason for your device to show you the error message "Google Play Services has stopped".
In order to avoid such hassles, you can temporarily remove your Google account and then log in again with the existing or a new Google account. Follow the below-mentioned process to remove and switch to a different or old Google account.
Go to Settings.
Tap on Accounts and backup
There will be an option called Manage Accounts. Tap on it.
Select the Google Account, you want to remove.
You will get the Remove account option there, tap on it to remove the account
Before removing your Google Account temporarily, you need to back up all your data & contacts that are associated with that account. Skipping the "backup" part can make you lose all your data. Next, create a new Google account to sign in and see if the Google Play Services is working.
Go to Settings.
Select Google.
Tap on the drop-down beside Gmail ID, select Add another account.
Or you can sign in again with your previously removed account.
6. Go Back to the Previous Version
Generally, the Google Play Services gets updated automatically in the background. If anytime the update goes wrong, then you can see the irritating error message "Unfortunately, Google Play Services has stopped".
Therefore, reverting back to the factory or previous version of Google Play services seems appropriate.
There are two methods you can follow to go back to the previous versions. These are:
Method 1:
Tap on the icon of "settings" on your phone.
In the "Settings" menu, you can find the "Apps & Notification" or "Apps" option. Open it by giving it a tap.
Next, search for Google Play Services from the menu. Once you find it, select it.
At the extreme top right corner of the mobile screen, you can see three dots. Tapping it will give you the option to "Uninstall Updates". You can uninstall the latest updates and go back to the previous version.
Method 2:
Launch Settings > Apps > App manager.
Find Google Play services from the list.
Click Disable from the menu. It won't uninstall your app, but it will switch back to the older version.
Restart your phone.
Once you turn your phone on, you can see the problem got fixed. Now you can reinstall the latest updates.
7. Reset App Preference
A slight change in Google Play services core system files can make the app unable to operate smoothly. That is why resetting app preference can help you to solve the issue.
The process, "Reset App Preference" would not affect your data at all. It would reset all the apps to their default version and restore default background data and permission restrictions.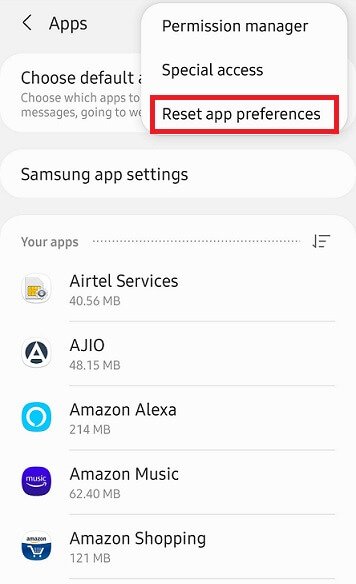 Go to Settings.
Select Apps or Application Manager.
From the top right corner choose three dots and select Reset app preferences.
From the confirmation pop-up, tap on Reset.
If the problem still persists, then try the next method.
8. Reset Factory Setting of Phone
If none of the mentioned steps work, and you still are getting the same error message that "Unfortunately, Google Play services has stopped" then you have only one option left. The option is to factory reset your phone. The steps are: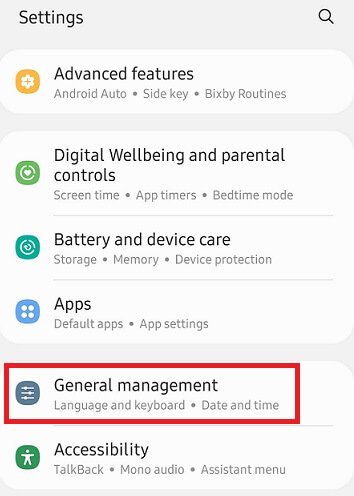 Go to Settings.
Go to General Management.
Tap on Reset.
The Factory data reset option will be there, Tap on it.
Next, press Reset.
This will remove all your existing data, photos, videos, and manually installed apps from your phone. So before doing a factory reset, it is important that you keep a backup of all your files. Google provides backup tools like Google Drive, Google photos to make the backup process easy for you.
9. Update Android Version
Sometimes, if your phone's android version is not up-to-date the problem may persist.  The new update might be able to fix some bugs, including app malfunctions.
That's why you need to check if your phone has the latest android version or not. Here's how you can do it:
Go to Settings.
Click on System or About Phone.
Check for any updates.
If the update is available, then click on Download and install.
Overview
Now you have pretty much an idea to fix the error Google play services keeps stopping. One of the methods is definitely going to work for you. Make sure you always update Google Play Store along with the Play Services. Moreover, you need to ensure that your device has free space for the apps to function smoothly.