TikTok is among the fastest-growing social media platform used by millions of people to showcase their talents. It's full of exciting videos that users can browse on the "For You" page.
However, while using the app, it can be frustrating if an error or glitch interrupts the fun. You can often encounter problems with TikTok no internet connection or no network connection error. It means you're unable to connect to the internet and consequently, can't watch or upload videos on TikTok.
The error seems to be consistent and it's challenging to fix since many reasons can trigger it.
If you've tried various methods but still can't get rid of the no internet connection problem, here're the permanent solutions for TikTok to work again.
How to Fix TikTok No Internet Connection Error
If you're receiving "no internet connection", "no network connection" or "unstable internet connection", try the following step-by-step solutions to fix the problem.
Check TikTok's Servers
You can start by verifying whether the problem is from your end or there's a TikTok server outage. To verify, visit Downdetector and check if other users have reported the same problem.
Use a VPN
If you find a problem with your local server, you can use VPN to avoid the network connection issue. VPN is a proxy that will redirect all your network traffic to a server of a different location. That location may not be encountering the same problems as your local server. So, give it a shot.
There're many free VPN services available, like NordVPN, ExpressVPN, Surfshark, etc.
Alternatively, if you have a VPN activated on the device, try deactivating it and connecting to the local server. See if you can get around the problem.
Check Your Internet Connection
If other apps on your device can't access the internet, it means there's something wrong with your internet connection. Try connecting to a different network, like switching from WiFi to mobile data or vice versa and see if that helps.
You can also refresh the internet connection by rebooting the router. If the internet keeps dropping for some reason, a router reboot often fixes certain connectivity issues. Also, make sure you have the best and fast network connection.
Restart TikTok App
The conventional tip for any app issue is to restart it. There's a high chance that your app might fail to load the resources leading to the error message. Restarting the TikTok app will remove the error and also refresh the internet connection between the app and your carrier. This simple solution can easily fix the error.
Here's how to do so:
1. Go to Settings on your phone.
2. Tap on Apps.
3. Select TikTok from the list.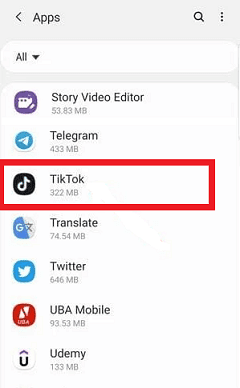 4. Tap on Force Stop.
Restart the app again after some time and check the connection.
Clear App Cache
TikTok no internet connection error can be triggered due to the cache in the app. Generally, all apps store data in the cache file to boost performance. However, over time, the cache can get overloaded or corrupted and create errors. Hence, clearing the cache can help with troubleshooting.
To clear the cache on Android, follow the steps below:
Open your device's Settings.
Go to Apps or App Manager.
Find TikTok and tap to open it.
Select Internal Storage.
Tap Clear cache.
Uninstall and Reinstall TikTok
If clearing the cache doesn't work, reinstalling the app can help you fix the no internet connection error on TikTok. This may be an old trick but can resolve any stubborn problems that don't have a particular root cause.
Tap and hold the app's icon on your Android and select Uninstall. Now, go to the Play Store, search for TikTok and tap Install.
Check for App and Device Updates
This is another classic trick that often ends up fixing many tech issues. You need to check if the app and device are updated to the latest versions. Sometimes, if one is updated, but other isn't, it can cause such errors.
Updating the app also helps to get the latest features and understand the trend if you use TikTok for business.
You can check for TikTok updates from the Play Store. If there's an update, install it. Then check for your device updates because the new version involves bug issues for lasting errors.
Allow App Permission
In case, TikTok doesn't have the necessary permissions on the device, it can cause the error. To allow permissions, follow these steps here:
Open Settings.
Go to Apps and select TikTok.
Tap Permissions.
Select or turn on the permissions needed for TikTok to work properly.
Contact TikTok Support
After trying the above solutions, when nothing worked, you need to contact the TikTok Support page through Twitter or go to the Help center on their website. They will diagnose the cause of your problem and help you to solve it.
That's it. Hopefully, these solutions will help you to resolve the no internet connection error. If you find this article helpful, do share it with others. Also, let us know your feedback in the comment box below.