You won't be able to do normal activities on your mobile if you constantly see a green screen on iPhone. Most of the time, users notice a green tint or green lines on their iPhone if the phone's display brightness is set at low.
Apart from the brightness settings, there are several reasons why you may experience the iPhone green screen problem.
Go through this article to know the possible reasons for the green screen iPhone and what you can do to make your iPhone normal again.
Why am I Seeing iPhone Green Screen or Green Lines On My iPhone?
If you're seeing iPhone green screen while turning it on. It indicates that your device is facing difficulties in identifying the display. Following are the possible cause why you see iPhone green screen or green lines on your iPhone.
Bugs on the iOS System: If you are using an outdated iOS version on your iPhone, then a green screen or green tint can appear out of nowhere.
 
Incorrect Display Settings: If you have set the display settings in the wrong manner, then you can experience the green screen iPhone problem.

Damaged Screen: Liquid or physical damage on your iPhone, such as a damaged screen, can be another reason why you are seeing iPhone green screen.
How to Fix iPhone Green Screen of Death?
If you see the green screen on iPhone or your iPhone screen turns green under some circumstances, you can try the following fixes to troubleshoot the iPhone green screen problem. But remember to back up all your important data before applying the fixes. Otherwise, you may lose them while going through the process.
Force Restart the iPhone
Force restarting the phone can fix minor issues such as iPhone green screen. This will also fix any software errors that may be causing your iPhone to freeze. Here's how you can force restart your iPhone:
iPhone 8 and above models
Press the "volume up" button and then the "volume down" on your iPhone quickly. Next, long press the "power button" on your phone unless you see the Apple logo on your screen.
iPhone 7/7 Plus
For at least ten seconds, hold down the Power and Volume Down buttons together until you see the Apple logo appear.
iPhone 6 or Earlier Versions
Long-press the power and home buttons simultaneously until Apple's logo appears on the screen, then release the buttons.
Install The Latest iOS Version on your iPhone
If your iPhone does not have the latest iOS version installed, then you can see the green screen as a result of the system bugs. In that case, you need to install the latest iOS version on your phone.
Here's how you can update your iPhone:
Open Settings.
Tap on General and then Software Update.
Click on Download and Install option if there is any available updates.
Set Your iPhone's Display Settings
The incorrect display settings on your iPhone can be another reason for iPhone green screen issue. Therefore all you need is to set your iPhone's display settings properly to fix the issue. It includes auto-brightness, true tone, auto lock, etc.  
Adjust the Brightness: In order to adjust the brightness, go to Settings> Display & Brightness. After that, drag the brightness slider to the right or left to adjust the brightness.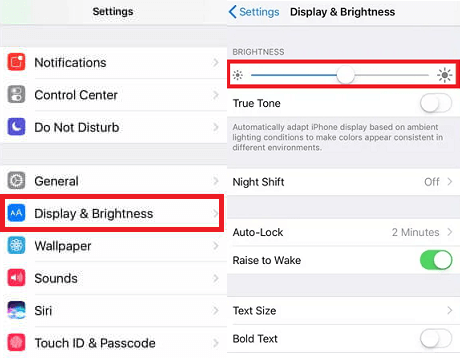 Turn on Auto-Brightness: To enable auto-brightness, tap on Settings> Accessibility> Display & Text Size. After that turn on Auto-Brightness. 
Turn on True Tone: To enable this feature, go to Settings> Display & Brightness> Toggle on True Tone.
Set Auto-Lock Time: Make sure your iPhone auto-locks after a short period of time. For that, go to Settings> Display & Brightness> Auto-lock. Now select a time from the list according to your choice. 
Clear All the Background Apps
If there are too many apps running in the background of your iPhone, then the screen can turn green. You need to close the apps that you are not using.
For iPhone 8 and earlier versions
In order to access your recently used apps, tap and hold the iPhone home button twice in a row. Swipe up from the bottom of your phone to close all of the apps you've been using at the same time.
For iPhone X and above models
Swipe up from the bottom of the Home screen to the middle and stop. This will show you the recent apps you've been using in the background. Close the apps by swiping them up.
Reset The Settings of Your iPhone
A few customized settings probably causing the iPhone green screen problem. It is possible to fix the green screen by resetting to factory default settings. However, this will erase all of your data and settings. Hence, before performing this process, make a backup of your iPhone. Here are the steps:
Open Settings and then tap on General.
Tap on the Reset button.
Select Reset All Settings.
Here, you might need to enter your password.
All of your specific settings will be deleted if you confirm the reset.
Use iTunes to Restore Your Phone
You can also use iTunes to fix the green screen on iPhone issue after wiping it clean. You should back up your iPhone before using this method because it will erase all of your data. Furthermore, you'll need the most recent version of iTunes on your computer to use this feature.
Open iTunes on your computer.
Connect your iPhone with the computer.
In your iTunes window, click the iPhone icon at the left of the screen, then select the Summary tab.
When prompted, confirm that you want to restore your iPhone by pressing the restore button.
Your iPhone will be restored to the default settings and this may also fix the green screen issue.
Contact Apple Support
If you are experiencing a green screen on iPhone after you have dropped the phone on a hard floor or in water, it is best to contact Apple Support. However, there are some more ways that you can try to fix the issue.
Restart your phone.
Run your iPhone in recovery mode.
Check for wetness and moisture on your iPhone.
Conclusion
You have learned how to fix iPhone green screen issue. In case the problem persists even after trying all the mentioned fixes in this article, it is best to take your iPhone to the Apple Store and get the screen issue fixed.