Being the most visited site worldwide, Facebook is a great way to connect and share media with friends. But often, you receive an error message on Facebook saying, "Sorry, this content isn't available right now".
This error code usually appears when you try to open someone's profile or page. Especially while trying to view an image or video's link, you face this issue.
However, it's possible to solve it. Go through the article to know how to fix Facebook content isn't available error.
Why Can't You See Certain Facebook Content?
It's surely frustrating when you try to open a link and can't view the content. Whether it's a profile, image or video, this Facebook error arises for certain reasons like,
If the content was flagged, Facebook might have removed it.
If the owner has posted for selected friends only, the content is unavailable to you.
If the content is deleted, you'll also get this particular message.
Unfortunately, if the owner has blocked you or vice versa, you won't be able to see his/her content.
If there are country, geo or age restrictions, you can't watch certain Facebook-restricted content.
If you try to view content from a private page or group, it'll cause the error.
How To Fix "This Content Isn't Available Right Now" Error On Facebook?
Though the error prevents you from seeing all content on Facebook, but don't worry. You can fix the problem on your own. Here are some possible solutions to try.
1. Get Yourself Unblocked
One of the common reasons behind the error is the person whose post you're trying to view has blocked you. In that case, you can't even view his/her profile, images, status or any post.
However, you can visit that profile first to verify. If it's visible, that means you're not blocked. Facebook is displaying the error, maybe for another reason. But if you're unable to see the profile, contact the person to unblock you or try other fixes.
2. Unblock The User
If you're receiving the error while trying to visit someone else's profile, perhaps you've blocked the user in the past. You can check the Facebook block list and try to remove them in order to view their profile again.
Open Facebook on your mobile.
Tap the three vertical lines from the upper right and select Settings & Privacy> Settings.
Search the person in your blocked list and tap Unblock beside the name.
Now you check if the Facebook content is still unavailable after unblocking the user.
3. Log In Properly
Facebook sometimes makes you log out involuntarily from your account. Eventually, posts become unavailable to you. It mostly happens when you spend too much time on this platform or due to other reasons.
With this in mind, you can try refreshing the page and log in to the account again with your credentials. Now, you can try to search and open the content and check if it fixes the issue.
4. Deleted Content
If you see the message "this content isn't available right now Facebook 2021", do not worry. Because when the content is removed or deleted, this pop-up error is common. Additionally, Facebook itself also removes a post violating the policy, like if the content is inappropriate, spam or flagged.
5. Deactivated or Deleted User Profile
Have you checked that user's profile? Probably he/she has deactivated or deleted the profile on which the content was posted. So, you may not be able to view it.
Not to mention, Facebook often deletes fake profiles or profiles that haven't followed the rules and guidelines. If you know that FB friend outside Facebook, you can contact to confirm about profile deactivation.
6. Changed Privacy Settings
If the Facebook content is not found yet, maybe the owner has changed its privacy settings. There are few privacy options for a post like public, friends, only me and specific friends.
You could see the post before when the owner set visibility for you. But once he/she changed to more private content, the post is accessible only to those whom he/she allows. Henceforth, you're getting a "this content is no longer available" error.
Furthermore, private groups only allow members to see and comment on posts. If you're not a member, there is no way to watch content. In this case, you can request the admin to add you to the group.
7. Publish Facebook Page Properly
Is your official page has published properly? If not, then it's obvious why followers can't view any post. To check for that, you can follow the steps below:
Open the FB Page and click Settings from the bottom left corner.
Click General from the left menu.
If the page is not published yet, click Edit at the Page Visibility option.
Click Page Published.
Click Save Changes.
8. Remove Geographical or Age Restrictions
Some Facebook page administrators limit the content to only a specific group or age of people. So, when they add age or geo-restrictions, Facebook won't allow people below the set limit to see the content. Consequently, the error message is most likely to be seen.
As a matter of fact, only an admin can add or edit country and age restrictions. Here's the process on a desktop browser.
Click Pages from the left menu on the news feed.
Go to the page and select Page Settings from the bottom left.
Click Country Restrictions under the General tab.
Click Edit and delete the countries the page restrictions are for.
Now on that same page, click Age Restrictions and make the applicable changes.
However, you may try a VPN to make blocked or restricted content visible. VPN makes it look like you're using Facebook from another location. Eventually, the content becomes available beyond geographical restrictions.
9. Malware or Virus Interference
Did you check for the virus or malware in the system? Many users claim that viruses can be the reason for receiving such an error on Facebook. It's better to check for them and try Windows Defender, Avast or Advanced System Protector and Antimalware software for Android and Mac PC.
10. Link Search Engines Outside Of Facebook
Are you still witnessing the "Facebook this content isn't available right now" message? Then here is another solution for you to fix the error. By linking other search engines outside Facebook to the profile may enable you to see a particular post.
Click the Drop down button on the top right corner of Facebook.
Select Settings & Privacy> Settings.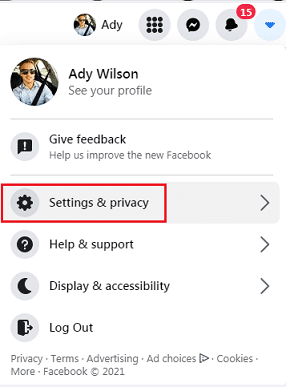 Click Privacy from the left menu.
Click Edit next to Do you want search engines outside of Facebook to link to your Profile?
Mark the box beside Allow search engines outside of Facebook to link to your Profile if it's not selected.
Click Close.
Conclusion
Hopefully, this article is helpful enough to fix the Facebook error when content isn't available. There can be multiple reasons behind the issue. You need to identify that and apply the solution mentioned above.
Further, you can try these methods on both Windows and Android. But in most cases of PC, some cookies may get blocked and arises the situation. In that case, you can try enabling them in the browser and check if the content is visible.
If you're still experiencing the error, take a break from Facebook. It's good to make real friends, enjoy and live a social media addiction-free life.