Discord is a popular worldwide gaming platform among gamers. Exciting features like chatting via text, audio or video call, screen share and Live streaming provide a real-time gaming experience.
Especially, it becomes more fun when you can share the screen with other users. It lets them watch the game you're playing and the software you're using.
If your Discord screen share not working, you may haven't added the game to Discord server, you may haven't cleared cache or turned off hardware acceleration.
Follow the below solutions to fix the issue.
Add Game to Discord
Check whether you've added the game or not to fix Discord screen share not working. When you play a game or run software on the Discord app, you need to add it first to your Discord profile to enable screen sharing.
1. Launch Discord on the desktop and open the game you want to share.
2. Next to the username on the bottom left corner, select the User Settings button.
3. Click Activity Status under Activity Settings from the left side.
4. If Discord can't identify a running game, it'll display a "No game detected" message. So, click Add it.
5. From the drop-down menu, search for the running game or software in the list and click Add Game once you find it.
6. Also, turn on the toggle for Display currently running game as a status message to show what you're playing.
Clear Discord Cache
Another quick way to fix Discord screen share forever loading is by clearing its cache folder. Here's the small process for the desktop users:
1. Close the Discord if it's open.
2. Press Windows+R to open Run.
3. Type %appdata% in the Run open box and hit enter or click Ok. It'll open the Roaming folder on your PC.
4. Right-click on the Discord subfolder and select Delete. It'll remove any corrupted or conflicting cache files.
Now restart Discord and check it fixes the blank screen problem.
Turn Off Hardware Acceleration
Discord performs well on devices with higher-end specifications. So, if you're using an older PC and Discord screen share fails to work, turning off its hardware acceleration is the best solution.
1. Open Discord on your desktop.
2. Go to Settings (cog icon) next to the username on the bottom left screen.
3. On the left-hand side, click Advance under App Settings.
4. Scroll down and toggle off Hardware Acceleration if it's enabled. It will help to share a screen during online streaming.
Disable Discord's Latest Technology option
Discord's latest technology enables users to capture the screen while playing. But it often triggers the screen sharing error along with a black screen and popping or cutting the audio.
So, to solve the Discord screen share not working issue, try disabling their latest technology.
1. Launch Discord on your device.
2. Click the settings cog icon at the bottom left.
3. Under App Settings on the left menu, select Voice & Video.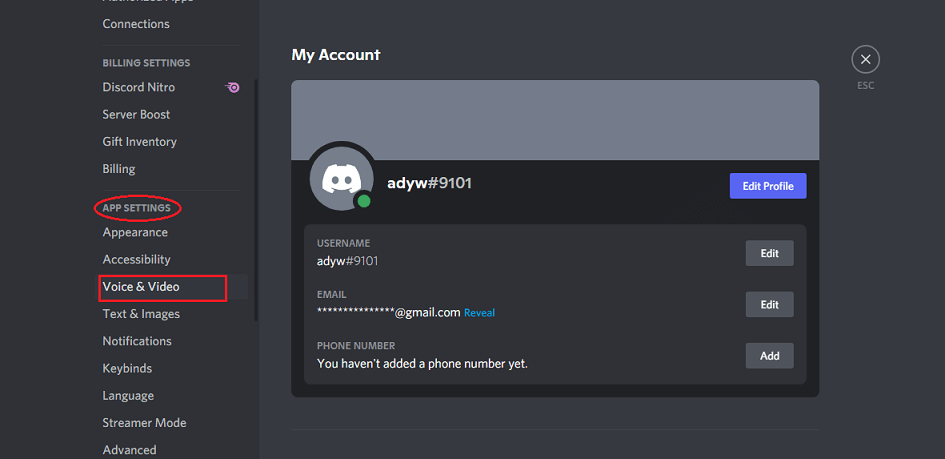 4. Toggle the switch off for Use our latest technology to capture your screen.
This action will return you to more stable legacy technology and solve the problem.
Allow Administrator Permission
Discord screen share won't work if you don't allow administrator permission for both Discord and the game to record and share the screen. So, to allow permission,
1. On the Windows PC, press windows key+S together and type Discord in the search box. Or, click the Start menu and find the Discord app.
2. Right-click on it and select Run as administrator.
3. In order to run a game as an admin, right-click its EXE file. Then, select Run as administrator.
4. If you're running Discord on a web browser, say Google Chrome, you need permission to share the screen every time during streaming. So, select the correct screen and the application window or Chrome tab for sharing and select Share.
Disable Full-Screen and Switch to Windowed Mode
Discord presently doesn't support full-screen sharing for games and applications. Hence, whenever you try to stream in full-screen, the viewers see a black screen instead.
The only solution to fix the black screen on Discord is switching to windowed mode. It's a simple process to follow:
When running an application on a browser, switch to windowed mode by pressing the F11 key from the keyboard.
You can further disable full-screen by using the windows control from the upper left (on Mac, when holding the Shift key) or upper right (on Windows).
To switch to window mode within the game, open the Settings menu. Select windows or borderless to get an almost full-screen experience while recording and streaming your gameplay.
Uninstall and Reinstall Discord
Is still your Discord screen share not working properly? If so, reinstalling the app is worth trying. Sometimes, a corrupt Discord version or installation can't load certain features.
Therefore, to fix Discord screen share not working, uninstall and reinstall Discord again. Here is the procedure:
1. Open Run on the desktop, type appwiz.cpl and click Ok. It'll open the Programs and Features window.
2. Find the Discord software and click Uninstall under it. Or, right-click on Discord and select Uninstall.
3. Delete other leftover data.
4. Open Run again, type %appdata% in the box and hit Ok.
5. Select the Discord folder and click Delete.
6. Again, type %localappdata% in the Run's text boxand hit enter.
7. In the Local folder, right-click on Discord and click Delete.
8. Restart Windows.
9. Visit Discord's official site to download the latest version. Then, reinstall the app and run it to check if it troubleshoots when Discord screen share does not work.
Additionally, switching from Discord desktop app to web client and vice-versa can also be a quick fix. These are some available top fixes for Discord's screen sharing issue. Try them and enjoy sharing the gameplay with your friends and viewers.