Discord is a popular text, video and voice chat app that millions of people use to talk and hang out with communities and friends. Most gamers prefer this VoIP application to communicate with others while playing.
This American VoIP platform is mainly built for creating networks among different communities. Users can talk through texting, voice calling, video calling, media and documents in a private chat room or publicly on servers. A server is the collection of voice channels that anyone can create and add members.
Despite benefits, Discord has some major issues that you may often experience. One of them is that Discord keeps freezing error that prevents you from communicating with others and interrupts online gaming.
If Discord freezes, it might be because of in-app settings, wrong keybinds, lack of storage or Discord is down. In this guide, we'll discuss the reasons and how to fix Discord keeps freezing problem easily.
How to fix Discord Keeps Freezing Issue
Before applying troubleshooting fixes for this specific problem, try restarting your Windows 10 OS. This simple trick can often fix any problem that you may face with the computer.
There're other factors that can be reasons for Discord to freeze, from software issues to hardware malfunctioning. In order to fix Discord keeps freezing, follow the quick solutions below.
Run Discord as Administrator
Discord often continues freezing if it has limited access. Another application with higher access may be interrupting Discord functionality and cause Discord to freeze suddenly. The only solution for this issue is running Discord as an administrator.
To do that, here're the steps:
Find the Discord icon on the desktop or search for it in the Windows search box.
Right-click on the application and select Run as administrator.
Now, open Discord, and it'll run as an admin. If the reason behind Discord freezing is the administrator's permission, then this method will solve your problem.
Disable Hardware Acceleration
Discord will use your GPU for better performance if your PC's hardware acceleration is enabled. However, it may cause certain issues like your graphic card getting overloaded and Discord keeps freezing during gaming. Disabling hardware acceleration can help you with troubleshooting.
Here's how to do it:
1. Open Discord and select the user settings icon at the bottom left corner.

2. In the left panel, navigate to the Advanced tab.
3. Toggle off the button beside Hardware Acceleration and save changes.
4. Restart Discord.
Delete Discord's Key Bindings
A primary reason Discord keeps freezing is for the key bindings. These are keyboard shortcuts that gamers use for quick actions and make gaming smoother. If you've set Discord key bindings, disabling it can fix the above-said issue.
So, to disable key bindings, follow these steps below:
1. Open Discord and click the cog icon (settings) at the bottom.
2. Choose Keybinds from the left panel.
3. Hover over the list of keybinds and choose what you want to remove. Select the red cross mark to delete.
4. You can delete all the keybinds in the same process.
5. Restart your PC.
Now check if Discord is still freezing.
Enable Compatibility Mode for Discord
Discord might cause to freeze if there's a compatibility problem with your Windows OS. In that case, enable compatibility mode for Discord and check whether the error persists.
1. Close Discord if it's opened and right-click on the Discord icon.
2. Select Properties.
3. Click the Compatibility tab.
4. Select the option Run this program in compatibility mode for and choose your Windows operating system from the drop-down.
5. Click Apply and Ok.
Open the Discord app and it will run smoothly.
Clear Discord Cache
Discord uses stored documents in order to save its users' inclinations and data. This reserve segment in a program is used many times in a solitary call.
There's a possibility that your Discord's reserve segment has been corrupted, and that can cause Discord keeps to freeze. By clearing the Discord cache, you can quickly fix the Discord freezing blunder.
Follow these instructions below:
1. Close Discord if it's opened.
2. Press windows key+R to open Run.
3. Type %appdata% in the Run command and enter.
4. In the opened window, find the discord folder.
5. Once you find it, right-click on it and select Delete to delete the entire folder.
This process will remove all corrupted or broken Discord cache files. Now open Discord and check if your problem has been resolved.
Deactivate Push-to-Talk and Activate Voice Activity
Sometimes, when you use an old PC, it often lags and causes freezing or crashing. If that's your case, try deactivating the Push-to-Talk in Discord and activating Voice Activity.
Here's how to do it:
1. Open Discord and select User Settings.
2. In the left panel, under App Settings, click Voice & Video.
3. Under Input Mode, choose Voice Activity to turn it on.
4. Click Esc to exit.
Switch to Discord Website or Application
You can access Discord from its website or application. If you're experiencing the Discord keeps freezing mistake in the app, switching to the website can help you solve the issue or vice versa.
While moving to the Discord site, clear the cache file. To delete Discord cache from the browser, press Ctrl+H on the keyboard and remove cache and history.
Another way is to click the Chrome browser's settings and search for Cache. Next, delete the cache local files from the list.
Update Discord
Discord might get freeze if you're using an outdated application. The developers keep updating the app to fix any issues. So, you can also update Discord to its latest version.
For Android users, open the Google Play Store, search for Discord and hit the Update button if available.
For iOS users, go to App Store, find Discord and select Update. If you experience any obstacle while updating Discord, follow this post.
Uninstall and Reinstall Discord
When there's nothing happening with the above-mentioned solutions, try to uninstall and reinstall Discord.
Follow these steps to reinstall the Discord app:
1. First, uninstall Discord from your device. Open Control Panel and select Programs & Features > Discord > Uninstall.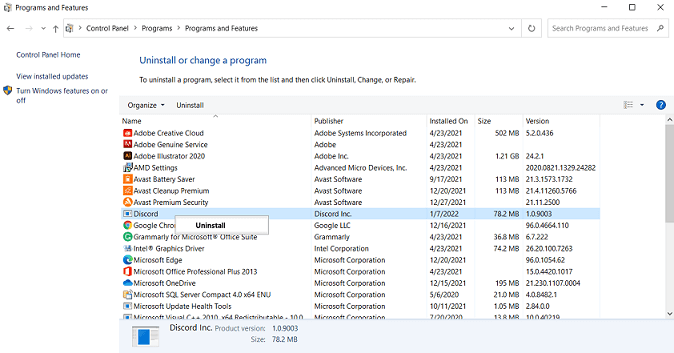 2. Now, visit Discord's official website and download the program again.
3. Run Discord.
Hopefully, these aforementioned solutions have been helpful to fix Discord keeps freezing. Sometimes, the error may pop up due to a hardware problem or in-app settings. Try all the fixes step-by-step and check which one works for you. If you've further queries or any other tips, share them with us in the comment box.
Related Content
Fix Discord Screen Share Not Working
How to Disable Discord Overlay
How to Unban Someone on Discord