Discord is a popular multimedia platform to find new communities or set up servers to chat and play with friends. People can discover nearly all kinds of servers like gaming, music, social, and certainly NSFW servers.
NSFW servers contain adult-themed content and languages that aren't appropriate for minors. So, such server owners feel the necessity of confirming Discord's users' age before allowing them to join these servers. Therefore, it's important that the platform sets an age-restricted guideline for specific servers and communities involving explicit content.
Nevertheless, you might want to learn how to change your age on Discord for other reasons. Maybe you don't feel secure disclosing your age or you're not old enough to play the game you wish. Regardless of the reasons, here's the step-by-step guide.
Why Changing the Age on Discord Is Not Easy?
The Discord staff members have established community guidelines for unsuitable content on the platform.
Although Discord doesn't verify a user's age during the account registration process, it's crucial that they must have more control over NSFW (Not Safe For Work) servers.
NSFW status is designated for specific servers created for NSFW themes or if most of the server's content is centered around 18+ content. That's why age restriction is extremely necessary so that "Not Safe For Work" content can only be accessible to adult audiences, not youngers.
If someone set an incorrect age while signing up for the account, changing it isn't an easy procedure. Discord doesn't allow changing age or date of birth manually, but instead, the user will need to submit a request along with a valid photo ID.
How to Change Your Age on Discord?
To change your age on Discord is to contact Discord Support and request them to change your date of birth.
Step 1. Submit a Request
Once you enter the Discord support page, select Trust & Safety under What can we help you with? dropdown list.
In the next section, enter your email address.
After that, find the Appeals, age update, other questions option under How can we help? option.
Step 2: Enter the Date of Birth
Now, Scroll down and click the drop-down box under Appeals, age update, other questions. You'll find multiple options there. Select Update my age information from them.
In the next box, type a phone number (optional) and enter your date of birth.
After that, check the box under Please confirm that you have attached the required materials.
Now, scroll down and add a subject line like, "Need help to change my age." Also, you can explain why you are requesting for changing your age in the description box.
Step 3: Add a Photo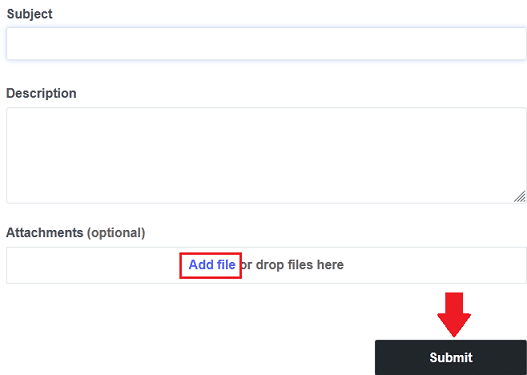 After the Description box, there will be a Attachments (Optional) header, under which you'll find Add file or drop files here option.
Although this step is optional, it's important to confirm your age on Discord.
Now, take a photo of yourself holding a photo ID that shows your date of birth and a piece of paper with your Discord tag written on it. Save the photo and click Add file at the bottom to add the attachment.
Click Submit and your age update request will be sent to Discord Support.
How to Change Age Details on Discord Account without Photo ID?
If you don't want to provide a photo ID or may not have the required documents to confirm your date of birth, then your last option is to create a new Discord account.
Here's the process:
Step 1. Visit Discord's Homepage
Open discord.com and complete the registration procedure. Note that you must give a new Discord tag and set a new age that you want.
Step 2. Sign in With a New Email Address
It's very important to create the account with a new email id, not the main one you used for your previous account.
Or else, you cannot properly set the account with the date of birth you want to have.
That's it. This is the complete guide you need to learn about changing your age on Discord. If you have any more queries regarding it, please let us know in the comment box.
Frequently Asked Questions
Does Discord ask for your age during sign-up?
Yes, Discord asks for your age during sign-up, but they don't verify your age at that time. They will verify it when you submit a request for changing your age after the account is created.
Is it safe to provide a photo ID?
Discord is a secured network and privacy settings on your account protect age details. So, unless you want to share it with other people, only you can see the age.
Can you fake your age on Discord?
Yes, you can fake your age on Discord, but you should not. The platform maintains its guidelines and controls the servers to keep underage users away from NSFW channels.