If you want to run Android apps or games on a large screen, Bluestacks is probably the first choice. It's one of the popular Android emulators for Windows and Mac. However, there are certain issues that you can't avoid.
Slow system performance, graphics card error, larger file size, malware detection etc., have pushed BlueStacks into the corner. If you're looking for a replacement, check out the following best and lightweight Bluestacks alternatives for a stable performance.
10 Best BlueStacks Alternatives
1. Nox App Player
If you want a free Bluestacks alternative, go for the Nox App Player. It allows you to install and run your favorite Android games or apps on Windows (including Windows 10) or Mac. Let's talk about its awesome features.
Its user interface is a little different from BlueStacks. But once you start using it, there will be nothing difficult to understand. You can easily adjust volume, camera, voice control, access location and others.
The gaming control is real fun. With one click, you can open the keyboard mapping and enjoy PC gaming using the mouse and keyboard or gamepad.
Touch or gesture feature for easy use.
Record the screen to play or share the game later, known as Macro Recorder. You can record complex situations and execute the script with a single click.
Nox comes with Google Play Store installed. So, there's no need for a file explore to install any APK file or apps.
Multiple languages support like English, Thai, Japanese etc.
Multi-instance feature to run multiple instances to play more games simultaneously.
Change the FPS CPU or RAM usage amount while using Nox.
So, if you're ready to enjoy some optimized and stable gaming experience, try Nox as one of the best BlueStacks alternatives.
2. LDPlayer
LDPlayer is the fastest Android gaming emulator like Bluestacks providing high-performance. The latest LDPlayer 4 (64 bit) supports Android games and apps with 64-bit architecture. In comparison, LDPlayer 4 (32 bit) supports 99% of Android apps and games without lag or crash.
But both provide the fastest speed for heavy-loaded games, a wide range of compatibility and better graphics that takes the gameplay to the next level. Here are the specifications it has:
Works on AMD, Nvidia and Intel-based PCs.
Runs on the Android Nougat version for better compatibility.
Requires a minimum of 2GB RAM and 36GB free hard disk space.
Also it offers Virtualization Technology that allows a single processor to simulate multiple processors parallelly dividing the PC into multiple independent PCs.
Some game-oriented features are:
Custom gaming control to play with keyboard and mouse.
Multi-instance to open many games at the same time.
Multi-instance sync.
Macro or script recorder to manage games automatically.
High FPS or graphics.
Different languages support.
3. Android X86
Another top Bulestack alternative emulator to enjoy Android gaming and apps on a big screen is Android X86. Here are the key features available in the latest release:
Works on Android version Kernel 4.19 or KMS.
Supports Wifi with GUI.
It also supports the external keyboard, mouse wheel, G-sensor, Bluetooth, software mouse cursor, V4I2 camera and netbook native resolution.
High battery status with power suspend or resume in S3 mode.
Better disk installer.
Mirror mode on external monitors.
Debug mode with busybox.
External storage automount support.
Audio (ALSA).
4. GameLoop
If you want to play an extensive range of games on a big monitor, GameLoop is the best choice for you. Developed by Tencent, you can play PUBG, Call of Duty, Free Fire and other 1000+ Android games on PC with Gameloop.
Try out the following cool features that made this emulator the best Bluestacks alternative:
Smart keyboard and flexible mouse control. Even for beginners, the gaming control is pretty easy.
High performance with AOW engine support.
Exclusive anti-hacking system.
However, unlike BlueStacks, GameLoop supports only Android games rather than chat apps. To access Google Play Store on the desktop, you need to install a separate module inside the setup.
Moreover, GameLoop doesn't support Mac. It's only available on Windows 7, 8 or 10 in both 32-bit and 64-bit processors.
5. Remix OS Player
Remix OS Player is a free Android emulator dedicated to gamers and a reliable alternative to Bluestacks. Though it's currently available for Windows Pcs only, they're developing Mac support also.
This open-source program is based on Android Marshmellow and can run all Android games, chat apps like WhatsApp, messenger etc.
Here are the minimum system requirements for Remix OS Player.
4GB RAM.
Windows 7 or more with 64-bit.
Android Marshmellow.
Core i3 but mostly preferable Core i5 and Core i7.
Internet connection.
Minimum 8GB storage, but for better performance, 64GB is highly recommended.
It has the following excellent features:
Run several apps simultaneously without lag.
Keyboard and mouse support.
Button mapping.
Easy access to Google Play Store.
Manual settings for battery, network, signal strength, location etc.
6. Genymotion
The next Android emulator you can pick over Bluestacks is Genymotion. It runs on Windows, Mac, Linux, as well as cloud via a web browser.
Genymotion lets you test Android apps virtually on desktops by installing Google Play Store with your GApps package. It's compatible with all testing frameworks based on ADB Appium, Robotium etc. Additionally, you can choose Android 4.4 to the latest version in all screen sizes to test apps.
Some other advantages are:
Instant access to unlimited virtual devices.
Secure and reliable for enterprise usages.
Emulate over 3000 virtual Android device configurations.
Genymotion features different sensors like battery, rotation, GPS, camera, sound etc.
File uploads.
Live logs.
However, Genymotion is not free software. It offers a free trial for 60 minutes, but then you need to pay to continue.
For device image (cloud provides): $0.50/hour & device.
For Saas: $3/hour & device or $1800/year & device.
For desktop (local services): as independent $136/year & user and as employed $412/year & user.
7. MEmu Play
MEmu Play is a legit Bluestacks alternative compatible with AMD and Intel chipsets. You can enjoy the fastest gameplay and extreme frame rate while playing Android games on PC.
MEmu is free to download and install on Windows PC and supports up to Android 7.1. Here are some important features:
OpenGL and DirectX 3D rendering effects with more stunning images on the large screen.
Smooth and simple mouse and keyboard gaming control with built-in key mapping.
Virtualization technology for better performance.
Similar to BlueStacks, it supports multi-instance to play multiple games or run multiple accounts for the same game simultaneously.
These features make MEmu a powerful Android emulator to enjoy the best gameplay on PC.
8. Android Studio
Android Studio is the official integrated development by Google designed especially for Android OS. You can use it to create and test Android apps from the computer. Here are some benefits that Android Studio offers.
Intelligent code editor to run apps faster than any physical device.
Visual layout editor.
APK Analyzer.
Fast emulator.
Flexible build system.
Real-time profilers providing real-time statistics about your app's memory, usage and network activity.
Despite these features, Android Studio has a disadvantage. It needs many computer resources to run or test the Android apps.
9. Andy Android Emulator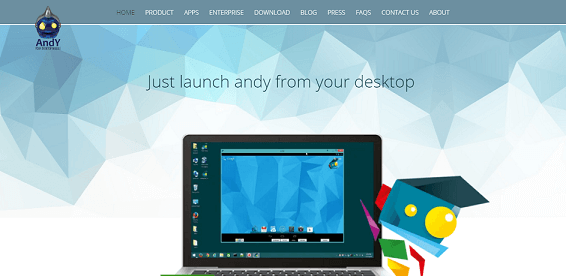 Next on the list, Andy Android Emulator is one of the best Bluestacks alternatives for Mac and Windows. You can open an Android app on this software with just a single click.
Moreover, this emulator is easy to set up and lightweight. So, it doesn't accumulate excessive memory like others. In fact, Andy provides unlimited storage capacity while keeping you updated with the latest Android OS.
Let's know the key features of Andy Android Emulator.
Continuous and smooth sync between mobile and desktop.
Desktop push notifications.
Access to the file manager of the mobile.
App download from any browser to the emulator directly.
Up-to-date Android OS.
Easy camera, microphone and sensors integration.
Multi-touch support while using the mobile as a controller or joystick.
ARM support.
Keyboard mapping.
OpenGL hardware acceleration.
10. YouWave
Enjoy the excitement of Android gameplay on PC using the YouWave emulator. It's new in the market but already gains popularity among people. But is it's only available in Windows XP/Vista/7/8/8.1/10 till now, including 32-bit and 64-bit.
YouWave requires 2GB RAM and 500MB disk space with Intel Pentium 1.6GHz CPU. Apart from simulating an Android device with a desktop or laptop, YouWave has other features to offer.
It supports Android Lollipop 5.1.1 (YouWave Premium version) and 4.1 ICS (free).
Multiplayer online games.
In-built app store with a wide range of applications to install.
SD card functionality to save all your data and file.
The latest addition is dynamic rotation ability and volume control buttons.
However, if you're an Android Lollipop user, try 10 days trial and purchase their premium plan. But with such amazing features, it's worth buying.
So, this is the list of best and legit Bluestacks alternatives for you. From playing games to testing Android apps, find your suitable Android emulator in the guide.