Your trip or outdoor activities can get spoiled in a second if it starts raining suddenly. Thankfully, by knowing real-time weather forecasts and nowcasts, you can understand climate conditions and eventually take safety.
Moreover, technology has replaced the need for radio or television broadcasts to get weather updates. There are several websites and mobile apps through which anyone can get weather forecast reports.
If you want to avoid natural calamities, stay updated with the following best and accurate weather websites.
Top 7 Best Weather Websites For Most Accurate Forecasts
National Weather Service
The Weather Channel
Weather Underground
AccuWeather
WeatherBug
World Weather Information Service
Dark Sky
It is one of the most accurate sites, particularly for the United States, under National Oceanic and Atmospheric Administration (NOAA). The site offers free live radar data and easy navigation on both desktops and mobiles.
Enter city, state or ZIP code and get the following weather information on the National Weather Service website:
Dangerous weather watches like a flash flood, fire, gale etc.
Active alerts on the flood, excessive heat or rainfall, tornado, hurricanes, tsunamis etc.
Accurate data about space weather, including earth's climate, orbiting satellites etc.
Air quality forecast guidance.
Information about wildfires along with other fire alerts like heat indices and drought.
Safety tips on beach hazards, fog, floods, rip currents, thunderstorms, wind and many more.
In order to check the climate with a live radar map, try The Weather Channel, an American pay television channel. You can get the video-intensive experience on its website as well as in Android and iOS mobile app also.
With an easy zoom in and out feature, the site provides the following accurate weather data:
Present time, hourly, 10-day, weekend and monthly weather forecast.
Special forecasts on air quality and fishing.
Cold, flu and allergy tracker.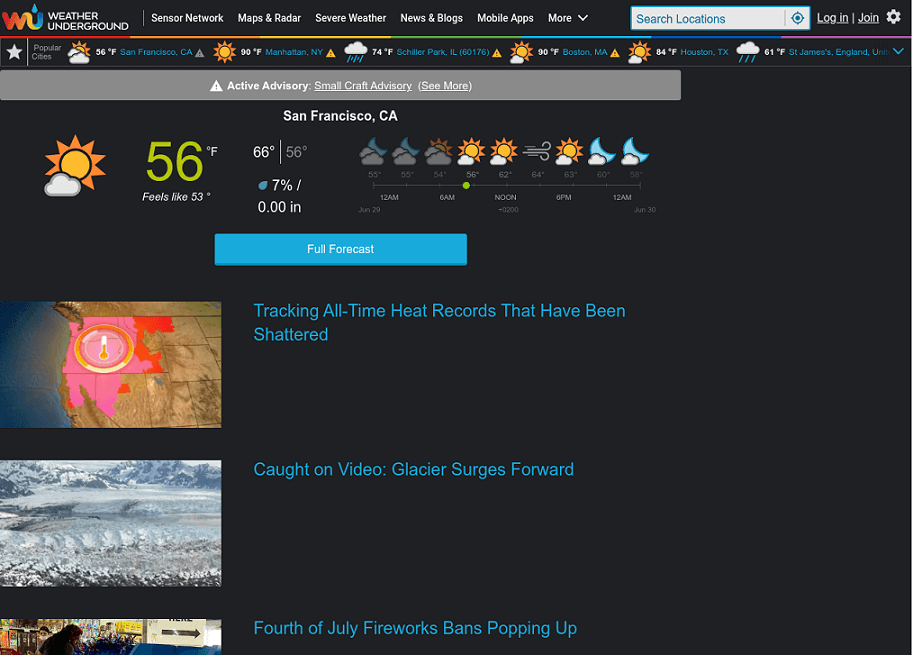 Another top radar website to know local weather conditions is Weather Underground. Based on the location, you'll get all the information at the top of the screen just by opening the site.
Additionally, Weather Underground provides the following on its site:
Information about over 8000 Personal Weather Stations and 1600 Meteorological Assimilation Data Ingest System Stations.
A full forecast with the help of radar or satellite images of a particular area.
Forecasting includes precipitation, pollen, air quality, UV index, pressure etc.,
Coronavirus cases on every selected location.
AccuWeather is said to be the most accurate source for weather forecasting and warnings globally. It brings the forecast to life for its users, business clients and partners with the help of experienced metrologists and other experts.
Moreover, AccuWeather focuses on the impact to business and people in order to make the best decision. Here is some life-saving information you get from this best weather website:
Daily, hourly, monthly, even minutecast instant weather report.
Air quality of selected zone.
Snowfall and ice forecast.
Additionally, the company is driven by turning weather forecasts into opportunities.
For business: it provides actionable insights to ensure safety, reduce loss and liability and minimize risk.
For advertising: elevate the ad strategy with superior accuracy, reach and performances.
For partners: multiple channels like audio broadcasting, AccuWeather TV network, virtual presentation of dynamic weather content on smart screen, publishing and API product integration.
An appealing weather website worth checking for is WeatherBug. It presents weather reports in small tiles on the home page that make the site looks catchy.
You can always have access to WeatherBug on Windows desktop, Mac, Android and iOS. There's no need for manual selection of the current location. Instead, once you open the site or app, it automatically detects the location and displays forecasts.
Here are the following weather updates from this top weather provider:
Hourly and 10-day along with current climate conditions, such as temperature, precipitation, local pressure, wind chill, humidity etc.
Weather overlay map with live radar, future radar, storm tracker, spark lightning, air quality and pollen.
All life-saving alerts like fire, hurricane, severe storm risks etc.
Updates for a healthy lifestyle like cold and flu or suitable weather for travel, snow and skiing.
As the name suggests, World Weather Information Service (WWIS) delivers global weather forecasts. It's known as the most visited and accurate weather website. Like any other site, enter the city/country/territory name in the search bar and get a weather update immediately.
Till June 2021, WWIS has provided official weather information and climatological data for 2963 cities. The information includes:
Present weather, satellite image and forecast/climatology for a selected region on an interactive map.
Global severe weather observations like tropical cyclones, heavy snow/rainfall, gale, thunderstorms and fog.
If you're looking for a simple weather website, visit Dark Sky. Unlike other sites, it comes with a plain view and presents animated forecasts with minimal data.
Here's what you can get from Dark Sky weather reports:
Temperature, wind speed, humidity, dew point, UV index, pressure and visibility.
Hour's update plus a 24-hours as well as past and upcoming 10-day forecast.
Down the page, get more details on 7-days forecasts with long-term data and radar.
Hopefully, now it'll be easier to pick the best weather website for you. But to get accurate information, enable your location and connect to the internet. However, some above-mentioned sites won't work while traveling abroad. For this reason, the article has also covered top global weather websites to get forecasts in real-time.