Are you planning to watch movies with friends who live far away? You can surely do it with them whom you see daily, but you can now also watch movies with those friends who stay at a long distance by road but are close to the heart. With these 10 apps, it's possible to watch movies together long distance.
We always make plans to watch a movie with friends or loved ones but cancel it easily. But now regardless of the location, watching movies online together without leaving the couch is at your fingertip.
Best Apps to Watch Movies Together with Long Distance Friends
Zoom can be your primary choice to host or schedule a virtual watch party with your long-distance friends. Zoom requires only one person to have an active account to share the screen. But everyone can play the movie at the same time.
In order to use Zoom, you need to create a paid account, queue up the movie to play and start a meeting. Then, select Share Screen and it'll generate a link that you can share with others to join you.
The only downside is the video quality is not always good and there can be lags if you have a poor network.
If you're looking for a long-distance movie night, try Gaze. You can do video chat and watch movies together with people who're far away. It lets everyone play, pause, seek and watch the same video at the same time.
All you need is to create a room and share the link with friends to watch a movie together. However, you can only add two people to the same room.
The biggest advantage is Gaze comes with a user-friendly interface that kids can even operate easily. Additionally, since you and your friends both need the same file on the computer to watch, the software lets you sync local files.
The only problem is it's a YouTube-specific service, so it has some limitations regarding streaming.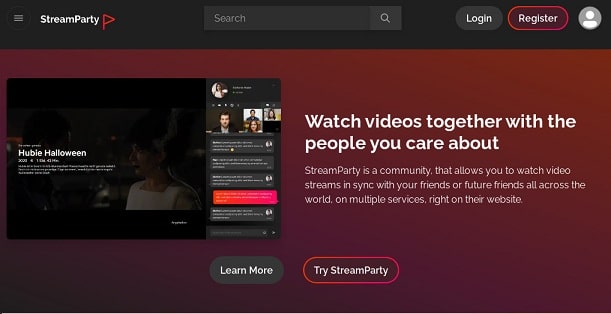 Watching movies together online with the people you care about has become easy with the help of StreamParty. It lets you enjoy movies on multiple services, including Amazon Prime, Netflix, YouTube and Disney+, right on their websites.
Also, on StreamParty, you can discover new content, chat with friends with its integrated video and text chat etc. So it's a great way to stay close with long-distance friends or loved ones.
StreamParty offers three pricing plans with different benefits.
Free: Unlimited public parties, up to 3 people in a private party, hosting 4 hours of private parties each month etc.
Premium: $4/month. Everything in free plus unlimited time for private parties and up to 6 people in a private party.
Business Lite: $5/month. Everything in premium plus up to 50 people in a private party, video chatting for up to 6 people and commercial use.
If you're eager to watch movies together long-distance directly on your favorite streaming site, Netflix Party will be a perfect choice. It's a Chrome browser extension to sync Netflix movies and shows for watching on multiple screens.
The extension requires only one person to add it and others can enjoy the movies on it automatically by syncing. So, simply install the extension on a PC, open a Netflix video, create a link and enjoy it with others.
Hulu Watch Party allows Hulu subscribers to watch movies together and connect people from different places. It syncs video playback for all parties and adds a group chat to the video.
To start a watch party on Hulu, open hulu.com on your browser, select a movie on the Details page, click the Watch Party icon, click Start the Party and send the link to others. If instead of playing a video you see a blank page on the activate area, read our guide on how to fix Hulu activate not working.
Remember, you must have a Hulu subscription and a maximum of 8 people can join a single Hulu watch party. Also, make sure that you're using a strong internet connection otherwise, it can cause problems like Hulu audio out of sync while broadcasting a video.
With MyCircleTv, create or join a room and invite friends to watch movies together no matter the location. You can invite friends by sharing the link via Facebook, Twitter, email etc.
Unlike other applications, it allows participants to voice chat for free while watching something together. Moreover, there's no registration required to enjoy free online movies.
But if you register, as a bonus, you can upload videos of up to 5Gb in a custom user-space (myCloud) in the .MP4 and .FLV formats.
It's a website that allows enjoying virtual movie nights together with family, friends or colleagues across the world. Twoseven can stream YouTube, Netflix, Prime, HBO Max, Apple TV, Hulu and much more.
It auto synchronizes the video playback for a smooth watching experience. You can further use the webcam to live chat with others to have more fun while watching.
Scener is a free service in order to enjoy movies with long-distance relationships from any major streaming apps. It supports Netflix, Hulu, Hotstart, Disney, Vimeo etc.
It perfectly syncs the playbacks for seamless performance. Additionally, Scener allows users to start video chatting, send documents or text messages in real-time.
All you need is to download the Scener free Chrome extension on the PC and start an invite-only watch party.
9. Rabbit
Rabbit is one of the best ways to watch movies, Netflix, Hulu or play games with long-distance friends. You can add this extension to your Google Chrome and enjoy it.
To share on Rabbit, open the site or movie you want to watch, click the Rabbit extension icon, select Start Sharing and send the room link to others. You can add up to 25 people to the same room for free.
Not only watching movies, but you can also chat via video and text on Rabbit. The amazing part is you can enjoy its service on Android and iOS too.
With Plex VR you can enjoy movies together online in an interactive environment via voice chat and other activities. It gives you a real feel of virtual theatre reality while sitting on a couch in your room.
So, to use Plex VR, download Plex media server on Android, iOS, Windows or Roku, get a headset, add up to 4 friends and play a movie.
Video synchronization is done perfectly so that everyone can watch together. However, you can change your device's screen size or position the way you want.
Furthermore, you can enjoy the service for free in the first week. After that, you need to subscribe to the Plex Pass for $4.99/month.
So, these are all the apps and software to watch movies together online in long distance. It's now easy to enjoy your favorite shows, movies and anything with friends regardless of the location.